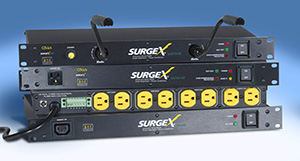 SurgeX
AMETEK Electronic Systems Protection (ESP) is a unit of AMETEK, Inc., and owns SurgeX. The company's full suite of power protection products are manufactured at the ESP/SurgeX factory located in Knightdale, North Carolina.
"We're very proud to offer our dedicated dealer base the power protection solutions they need to safeguard their client's installations directly from our own manufacturing facility," says Lauren Simmen, Manager, Marketing for AMETEK ESP.
"Our customers rely on our products to protect their customers systems from damaging power anomalies. With our manufacturing facility right here in North Carolina, we're better equipped to manage quality control on each device that goes out the door to our dealers.
Power protection isn't always the easiest selling point or spec to explain to a customer either. To help combat that, we often invite dealers to come visit us at our manufacturing facility where they can assemble a device of their own and see all the components that go into safeguarding their client's installations.
Dealer education and confidence in our products is what drives the SurgeX and ESP brands and by manufacturing all of our products domestically, we're able to better serve our customers."
Return To:
These AV Companies Manufacture in America