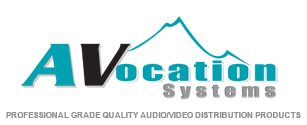 AVocation Systems
From Trent Mulligan, sales and marketing manager:
"Since we control the assembly process very closely, we can change designs in both hardware and software very quickly to meet customer demands. It's also crucial that we make products that are durable and reliable, and a stringent QC process is the best way to achieve this.
The next big advantage is jobs. It's obviously economically beneficial to everyone if we can keep these jobs local. It also gives you a sense of pride knowing what you're doing helps play a small part in the overall process.
The ability to make products that meet specific needs is crucial for success in this industry, especially when you manufacture locally. We use the feedback we get from our personal relationships to engineer and manufacture the most relevant products possible, and because we control the process, we can do it in a timely manner."
Return To:
These AV Companies Manufacture in America