ANC and GLAAM America Introduce Digital Media and Interactive Glass Building Material
GLAAM Media Glass is 'fully transparent by day and interactive at night,' creating myriad new possibilities for media architects in various vertical markets.
Leave a Comment
Building owners, developers and architects can now turn their glass buildings into magical, interactive video canvases, thanks to a recent partnership between ANC and GLAAM on a new LED glass building material.
GLAAM Media Glass is "the world's first and only ICT LED glass building material and is now available to U.S. clients for design, integration and operation" through a new partnership with ANC, according to the joint announcement.
The fully transparent, LED embedded, construction-grade material, created with 24 global patents, "revolutionizes the media architecture market," the announcement says.
"With the new GLAAM Media Glass, produced by GLAAM America and integrated by ANC, clear glass facades can be transformed into a wonderland of opportunity," according to the joint announcement.
"GLAAM Media Glass infuses a limitless digital world into the transparent skin of architecture," said GLAAM America CEO Casey Chang in the announcement. "Through our partnership with ANC, we now offer a turnkey supply, integration and control solution for U.S. clients looking to be the forefront of media façade technology."
Related: ANC Creates Enhanced Banking Environment at Chase's Madison Avenue Flagship
GLAAM America manufactures GLAAM Media Glass based on each individual project's needs and ANC will design, distribute, integrate and provide ongoing operation and service of the product for U.S.-based installations of projects like retail developments, sports venues, transportation and directional signage.
The product has been installed in more than 250 buildings throughout Asia. Via the GLAAM-ANC partnership, U.S. developers, architects, and owners can now also design and create new possibilities with experiential facades and buildings.
"As a creator of iconic and beautiful digital media installations, we are thrilled to be GLAAM's U.S. partner to help bring this first-of-its-kind product to our market," said ANC CEO George Linardos in the joint announcement.
"For our clients looking to transform their buildings and spaces into landmarks with inspiring visuals and interactive content, this new offering can help turn a standard façade into an infinite digital story," he said.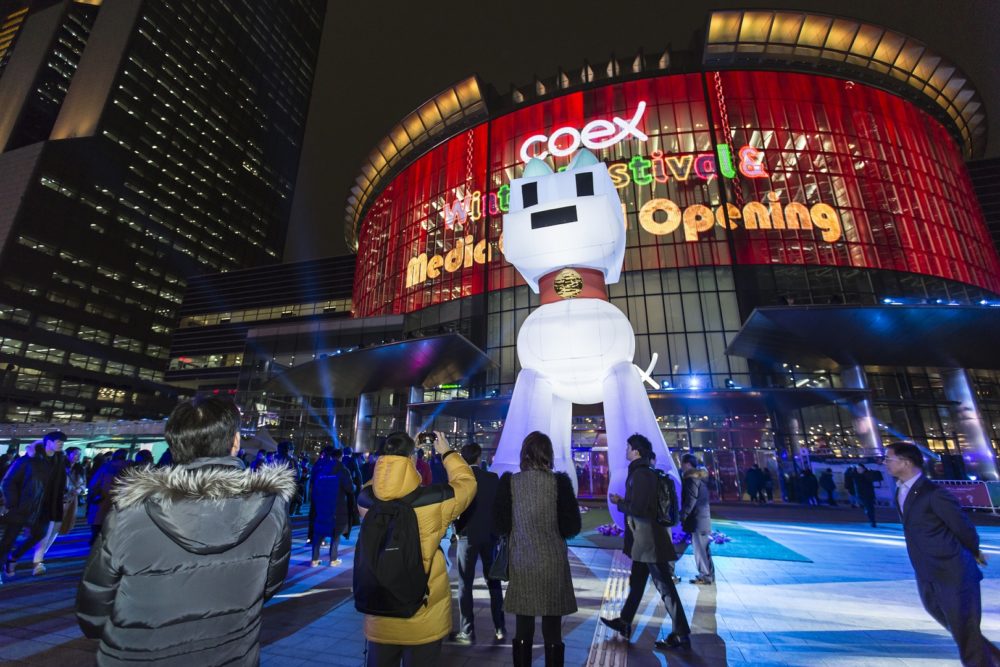 More About GLAAM Media Glass
GLAAM Media Glass "eliminates the compromise of design and building value from obstructed views and blocked natural light from LED screens, bars, mesh and attachments," according to the joint announcement.
The embedded micro-LED technology, weatherproofed and protected from the elements, "creates a seamless connection between the physical and digital experience," the announcement says.
GLAAM Media Glass is estimated to provide 100,000 hours of full brightness over its lifetime and is design-built and specified to meet glass performance, durability, energy and aesthetic design requirements.
It can be retrofitted to the interior or exterior of an existing façade, or as the primary façade material itself, integrating with most curtain wall systems.
GLAAM Media Glass "allows building owners to utilize an entire floor area in the building by creating habitable interior space all the way to the façade," according to the joint announcement.
Because it serves as regular glass during the day and a display at night, GLAAM Media Glass also consumes less power than standard LED displays.
"Our product creates unprecedented value by offering fully transparent architectural glass with built-in LED video display and interactive capabilities" said Chang.
"It is now possible for large- or small-scale architectural glass applications to create new revenue streams, transform facades into digital public art, broadcast real time events, interact with motion or sound, and even connect to smart phones and tablets for experiential activities," he said.
GLAAM Media Glass "is opening up new and exciting ways for buildings to increase their value and connect with communities in a way never before possible," said Chang.
ANC and GLAAM's partnership "defines innovation and expertise in manufacturing, design, integration and ongoing operations," said Linardos. "Every building can now be a living, breathing canvas in memorable, artistic, and enthralling ways that drive revenue, communicate and create a sense of community.
"We look forward to ushering in the future of media architecture with our clients and our new partners at GLAAM," he said.