Lowell ES In-Ceiling Speakers Line Adds 4 Models
Quick-install, Lowell ES In-Ceiling Speakers adds four new models including an 8-inch subwoofer and 8-inch coaxial speakers for distributed audio applications.
Leave a Comment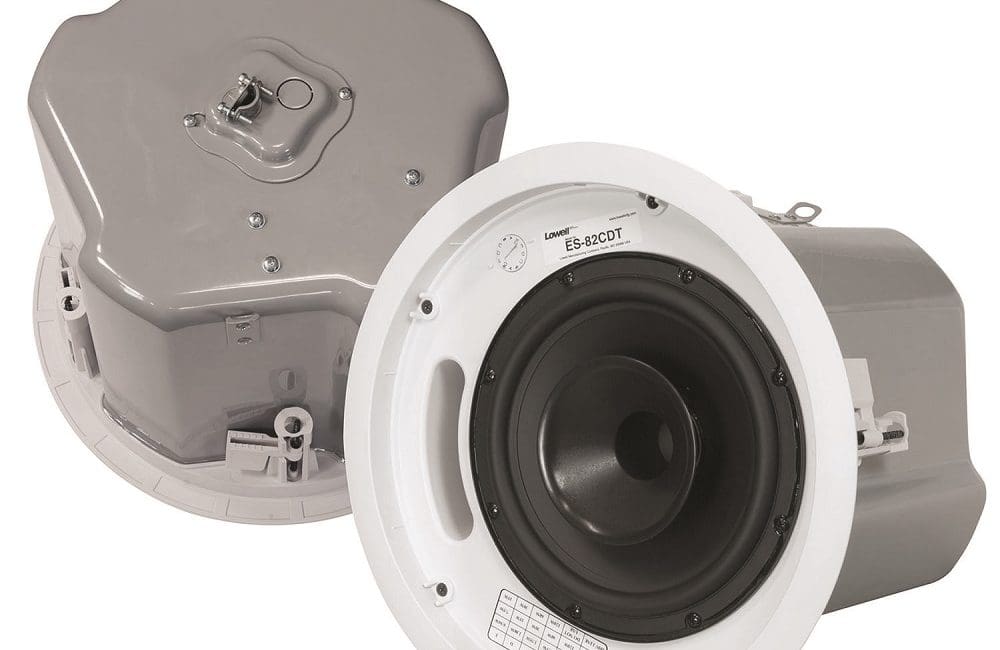 Lowell Manufacturing Company's containerized, quick-install line, Lowell ES In-Ceiling Speakers, is adding four new models.
The Lowell ES In-Ceiling Speakers, known for their smooth sound, clear transmission, and quick-installation features, will add:
5-1/4-inch coaxial driver
8-inch subwoofer
8-inch coaxial driver
8-inch coaxial compression driver
According to a Lowell Manufacturing Company press release, all 8-inch models feature a transformer with 120W tap for maximum power.
"The ES continues to be a popular style for our customer base," says Jeff Garstick, who handles new business development at Lowell.
"We're committed to providing more driver selections in that easy-install format to have a more complete lineup of speakers with similar aesthetics."
Related: Consider These 12 Commercial Outdoor Speakers For Your Summer Installations
More on Lowell ES In-Ceiling Speakers (via press release):
Providing full frequency response for music and excellent intelligibility for speech, ES Series speakers are well suited to a wide variety of commercial, retail, industrial, institutional, and residential applications. The factory-mounted enclosure, with reversible mounting dogs and press-fit grille with scrim and pull-tool, aid fast installation in drywall, wood, and tile ceilings.

The new speaker models include—eight inch coaxial driver Model ES-82T, eight inch coaxial compression driver Model ES-82CDT, eight inch subwoofer Model ES-8TSUB, and 5-1/4 inch coaxial driver Model ES-52T. Shipping is set to begin this summer.
Lowell's ES Series will be on display at InfoComm 2019 at Lowell Manufacturing Company's booth No. 5961.
Find More InfoComm 2019 Coverage Here
How to Install Lowell ES In-Ceiling Speakers 
More about InfoComm 2019:
Who attends InfoComm? The AV trade show and educational components are traditionally targeted at AV professionals that work for integration or consulting firms. However, as AV has converged with IT and security, the show also provides value for security integrators and IT VARS.
Technology professionals from these groups that benefit from learning about new and existing products directly from the 1,000-plus exhibitors (for example, at InfoComm 2017) or take advantage of eduation from the 150+ seminars and workshops (for example, planned for InfoComm 2018) are candidates to attend.
AVIXA's Certified Technology Specialist (CTS) credits can be earned at many education sessions offered during InfoComm.
A less tangible benefit, but one that is considered valuable for many InfoComm attendees, is the networking opportunity. For technology professionals, InfoComm provides an opportunity to meet with countless colleagues, manufacturer partners and potentially form strategic alliances in one week.
It's important to note, however, that InfoComm isn't just for professionals working for integration or consulting firms. Increasingly, technology purchasing decision makers at end user organizations have sought out the pro AV trade show as a platform for learning about solutions for their companies.
In many cases, integrators or consultants bring top customers as guests to InfoComm to take advantage of being able to demonstrate products from the 1,000-plus exhibitors.
Meanwhile, many of these end users seek to maintain CTS certification and take advantage of opportunities to earn credits from education sessions during InfoComm.