LEA Professional Scores a Touchdown at the Pro Football Hall of Fame
LEA Professional's CONNECTSERIES amps elevate the audio at Pro Football Hall of Fame's conference space, ensuring every presentation is a touchdown.
Leave a Comment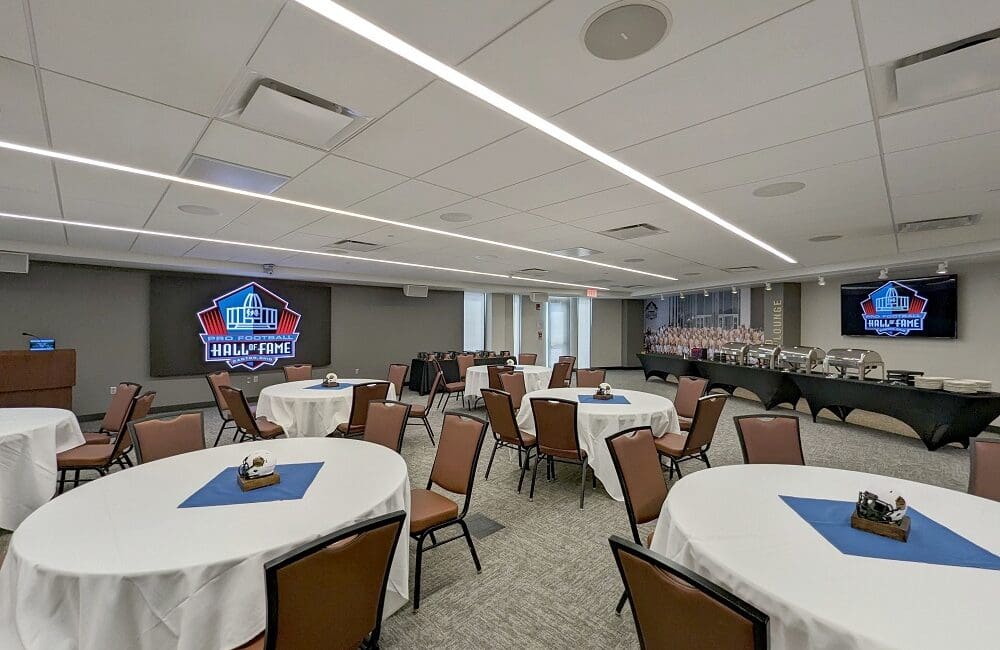 Photos & Slideshow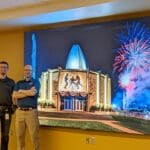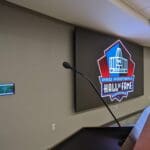 ---
On Sept. 17, 1920, football pioneers gathered together in Canton, Ohio to hold the first official meeting for what would later be known as the National Football League (NFL). Over 100 years later, conversations about the country's beloved league are still held in Canton at the Pro Football Hall of Fame. In order to host these conversations with officials across the country, the Pro Football Hall of Fame's conference space required an audio system that was both intuitive and effective. Fortunately, LEA Professional's CONNECTSERIES 702 and 354 amplifiers were a perfect match.
The Pro Football Hall of Fame was created in 1963 and is recognized worldwide as America's premier sports Hall of Fame, hosting more than 10 million fans from each of the 50 states and upward of 70 countries. The museum hosts a variety of attractions paying tribute to the talents and triumphs of pro football's greatest legends and examples of the courage, dedication, vision, fair play, integrity and excellence that has formed such a legendary league. The facility also contains the James Allen Family Golden Jacket room, a conference space that accommodates up to 120 people who discuss a variety of topics including the Sectional Committee Meeting, which determines which athletes will be inducted into the Hall of Fame each year. Its entrance sits only a few feet from the Hall of Fame Gallery, with the Museum's collection of Bronzed Busts, and opens onto a brick terrace adjacent to Tom Benson Hall of Fame Stadium.
Pro Football Hall of Fame Audio Installation
To host meetings of such importance, having reliable audio is key. When the Pro Football Hall of Fame was ready to upgrade its old audio system, they enlisted Josh Winn, founder of J. Winn Sound, to install technology compatible with the room's ever-changing needs.
"The room can be configured in multiple ways as a board room, conference room, lecture hall, etc. It features a touchscreen interface programmed to match the specific meeting's layout, enabling automated camera and sound system adjustments that track the speaker's location. This creates the illusion of a professionally engineered video production, though it's entirely automated," Winn explains.
The LEA Professional CONNECTSERIES Solutions
Winn and his team specified LEA Professional's CONNECTSERIES 702 and 354 for this project. "We were looking for intuitive technology whose reliability would give our team peace of mind that it would run efficiently with minimal troubleshooting required," Winn adds. "LEA Professional's products were affordable but did not compromise on clarity, horsepower and DSP capabilities. Additionally, we were able to receive the products quickly, which at the time was a major issue for many manufacturers. All of these aspects made the CONNECTSERIES ideal for this project."
LEA Professional's CONNECTSERIES 354 Series was installed to handle several banks of ceiling loudspeakers. The series' smart capabilities can delay the audio or adjust the volume as needed per channel. The CONNECTSERIES 702 series powers the audio speaker system at the front of the room, making the sound more impactful while conducting video presentations.
LEA's 704 and 354 Network CONNECTSERIES smart amplifiers feature 700 and 350 watts per channel, respectively, and are well-suited for installations such as the Golden Jacket Lounge that require a lot of system flexibility. The two, four and eight-channel amps support HiZ (70V or 100V) or LoZ loudspeakers, selectable by channel. With three ways to connect, the installer can engage the built-in Wi-Fi access point, connect to the room's Wi-Fi, or connect to any local area network via Cat5 or Cat6 cable. LEA Professional's Network CONNECTSERIES is also the first amplifier family in the industry to offer cloud connectivity, offering an additional layer of reliability through remote troubleshooting and support.
A Win for LEA Professional & Pro Football Hall of Fame
"This was our first time working with LEA Professional products, and we could not be happier with the results," Winn said. "Our experience with LEA Professional mirrored the kind of user-friendly experience that we like to provide our clients with; the goal is for them to walk up and say, 'Oh, why did you provide a manual for this? This is so easy."'
"The Pro Football Hall of Fame is a great example of how with the right technology, a small space can reflect production-like quality," Scott Robbins, vice president of global sales at LEA Professional notes. "Football is an American staple and a sport that many hold dear to their hearts. The fact that we've played a part in amplifying conversations about such an important topic will always make us proud."
View additional photos of the LEA Professional product installation at the Pro Football Hall of Fame by clicking "View Slideshow' in the upper right-hand corner. All photos courtesy of Brand Definition. 
If you enjoyed this article and want to receive more valuable industry content like this, click here to sign up for our digital newsletters!