AdMobilize Audience Analytics Solution Now Available for IAdea XMP-7300 Media Player
AdMobilize and IAdea will demonstrate the integration of audience analytics and media player at InfoComm 2018 in Las Vegas next month.
Leave a Comment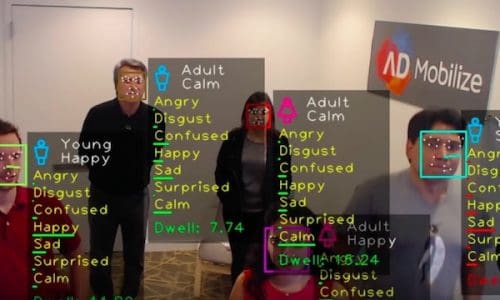 AdMobilize this week announced that its audience analytics system is now available to be integrated with the IAdea XMP-7300 media player and that both companies will demonstrate the integration during InfoComm 2018 in Las Vegas next month.
AdMobilize and IAdea will demonstrate the integrated solution at InfoComm 2018 at AdMobilize Booth #N3536 and IAdea Booth #N3238, says AdMobilize head of marketing and sales Michael Neel.
"We are excited to make the AdMobilize Audience Analytics System available as an option on our True 4K, high-performing XMP-7300 media player," says IAdea CEO John C. Wang in the announcement.
"The addition of this analytics platform further enhances the performance value of our XMP-7300 media player, making it an even more complete solution for systems integrators and end-user customers."
Full 4K Video, High Bitrates
With all of the features incorporated into IAdea's full HD players, the XMP-7300 integrates full 4K video with 1080p HTML5 playback for dynamic presentations. It supports H.265/HEVC codecs for playback of full resolution 4K video at high bitrates for artifact free crystal clear UHD video.
Like all IAdea HD players, the XMP-7300 runs fanless and operates in high-heat conditions up to 50C/122F.
AnyTiles, Audience Analytics Tech
The XMP-7300 player incorporates IAdea's AnyTiles technology.
This scalable digital signage device packs its features into one palm-sized appliance suitable for professional installations, outdoor environments, in-train advertising (anti-shock and anti-vibration) and video wall applications.
The AdMobilize Audience Analytics solution can track real-time ad performance and customer engagement; segment campaigns and content by hour and site; target content by both audience demographic and emotion; and optimize store traffic flow and much more.
All captured analytics are fed to a cloud-based dashboard (real-time in less than 15 milliseconds) or API that allows end-users to assess results and performance, identify trends, and make any necessary adjustments to the displayed content.
A growing number of partnerships with third-party companies is fueling the adoption of AdMobilize solutions in North America and, increasingly, around the world.
Last year, AdMobilize entered into a dozen partnerships with a broad range of companies from the U.S., the United Kingdom, Canada, Mexico, Japan, Peru, Australia and beyond. AdMobilize now has relationships with more than 100 companies that span virtually every major vertical market.