Let's Talk dvLED, Babee…
Direct-View LED (dvLED) display use is on the rise due to refinements in design, power consumption and accessibility.
Content from our Sponsor
Leave a Comment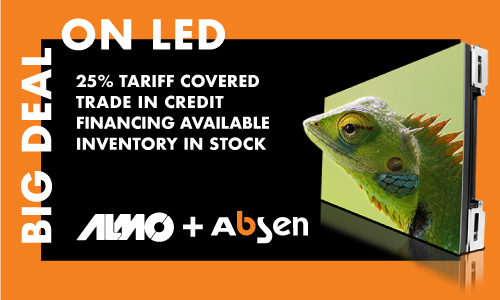 Almo Professional A/V is ready for this trend, having recently hired Adam Coleman as Business Development Manager in charge of technical and installation consulting for dvLED products. Adam brings 20 years of technical, service, training and engineering experience within the AV industry.
Here are Adam's three key points on HOW dvLED displays have evolved to become a top display choice for AV installs:
Lower power and heat consumption. Early dvLED models consumed massive amounts of power and produced significant heat in order to balance the brightness of each of the primary colors. But thanks to Common Cathode Technology (CCT), a different approach to power management is used. CCT does not draw unnecessary power, leading to less heat production. The result? dvLED displays that are capable of producing bright and vibrant images without extreme power consumption.
More durable. dvLEDs typically used Surface Mount Diodes (SMD) with red, green and blue elements, which are physically soldered to a PCB. As pixels have become finer for cleaner, brighter images, the direct-view display became more fragile and easily damaged. However, with the birth of Integrated Module Devices (IMD) the pixels are now grouped within a durable form, for less damage and easier maintenance.
Easier to integrate. Previously, incorporating dvLED displays may have required complex and custom engineering, design and maintenance. But as dvLED has evolved, this complexity has been nearly eliminated. There are many in-stock options within the US, which allow an order to placed and fulfilled in days. With CCT, the displays now run on standard 15A/20A circuits with less power and heat (see #1). Further, modern dvLED controllers facilitate configuration from the front making it easy to change a source with a push of a button.
Almo Promotion! Now through November 30, 2019, Almo is offering the opportunity to receive credit for replacing aging displays with Absen dvLEDs. In addition, Almo is removing up to 25 percent of the tariff fee on all new LED orders. Stackable deals can be combined with below market financing. See complete details here.