High-Quality Visual Presentations at an Affordable Price
Introducing Strong/MDI's new Poliview tensioned screen for small to medium sized venues
Content from our Sponsor
Leave a Comment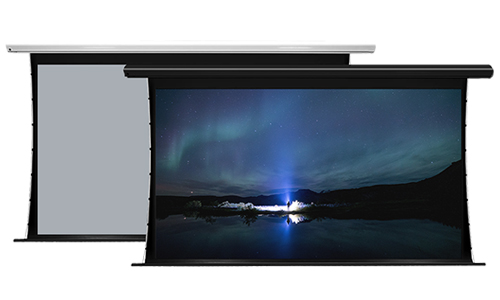 At Strong MDI, our goal is to provide our clients with custom projection screen solutions that meet their individual needs, including budget, and our new Poliview motorized screen system is no exception. The Poliview tensioned motorized screen is designed to create a perfectly flat, smooth surface for optimal visual presentations in smaller venues.
The Poliview tensioned motorized screen includes a reliable and fully integrated operating system making it an excellent match for heavy-use environments, like conference rooms, training sites, classrooms and worship spaces. Poliview includes control functionality for remote operation through either a wireless handheld remote or through a closed contact low voltage system like a screen trigger, wall switch or automation system.
The auto-tension knob and durable tabs ensure that the screen is consistently free of wrinkles, even after years of regular use. There is no need to use lower grade reinforced vinyl material to keep the screen flat and as a result, higher cinema-grade screen surfaces can be used. You can choose from many of our front and rear projection screen materials as the primary surface, which allows the unit to work well in a variety of environments, including those with a substantial amount of ambient light.
Strong MDI uses a unique welding process to secure the customized black borders to the screen. Most motorized systems come with a painted black border, and with regular use, the paint can peel or get sticky. Strong MDI's black borders are not painted, the black is embedded in the PVC material, this not only makes for a more durable product, it also provides a neater framed image and contributes to the product's premium look.
Ensure you're providing your audience with the highest quality visual presentations by contacting our team through our contact form or by phone at (877) 755-3795. We can evaluate your situation and match you with a custom projection arrangement that ticks all the right boxes.