ClearOne Debuts VIEW Bucks Promotion with Dollar-for-Dollar Credit on VIEW Lite Products
ClearOne VIEW Lite JPEG 2000 technology offers what company officials call 'ultra high-quality live video streaming and distribution.'
Leave a Comment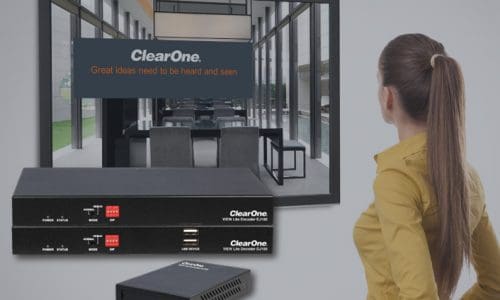 ClearOne recently announced the launch of a promotion that offers their customers dollar-for-dollar credit with the purchase of any products in the VIEW Lite line.
The credit offer is good toward the purchase of all ClearOne products, including all CONVERGE Pro 2 VT SKUs, the CONVERGE PA 460 amplifier, the Analog-X ceiling mic array, Dante ceiling mic array, CONVERGE Huddle, VIEW Pro 4K, COLLABORATE Space and COLLABORATE Pro products.
The VIEW Lite line of products includes the VIEW Lite EJ100 encoder, VIEW Lite DJ 100 decoder and VIEW Lite CJ100 controller, ClearOne's newest additions to the company's AV over IP streaming product line.
All three VIEW Lite products "provide essential functionality that meets the full needs of simple AV over IP applications while simultaneously delivering superb price-to-performance value," according to the ClearOne announcement.
As a JPEG2000 technology-based solution, VIEW Lite offers:
low latency at about 1.5 frames, end-to-end
resolutions of 4K60 with 4:2:0 color space
4K30 and 1080p60 with 4:4:4 color space support
distribution applications over a dedicated IP network (according to the company press release)
"The VIEW Bucks promotion represents a great opportunity to add these highly effective AV over IP products to your company's communications system and accrue free credit toward the purchase of additional ClearOne products," said ClearOne Chairman and CEO Zee Hakimoglu in the company announcement.
The VIEW Lite VIEW Bucks offer is available to all authorized ClearOne partners worldwide and is valid through April 30, 2019.
Earlier this year, ClearOne hosted its Huddle Bucks program to give systems integrators the opportunity to earn dollar for dollar free credit on CONVERGE Huddle purchases.
"ClearOne is unique in that it can offer its partners a world-class huddle space collaboration solution as well as all of the products that attach to that solution," said Hakimoglu.
"With 'Huddle Bucks,' we are demonstrating the leverage this ability provides."