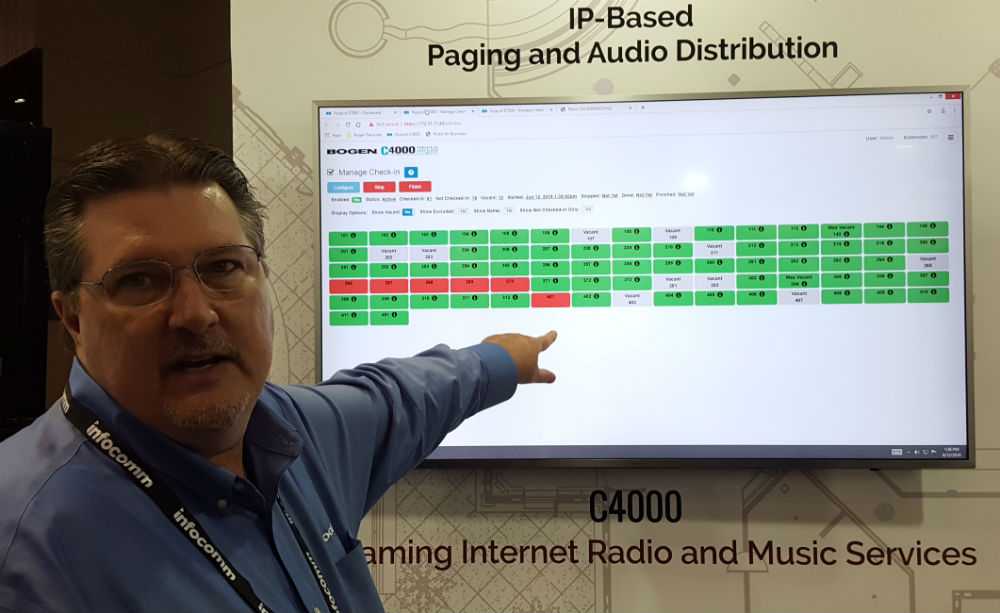 Bogen Communications – C4000 IP-Based Paging & Audio Distribution
Bogen Communications was previewing its 2.0 feature set of this BEST Award-winning solution at InfoComm, which builds upon the Nyquist C4000 application software and purpose-built appliances that provide audio mixing, amplification, distribution and third-party device/system integration.
The enhancements center around the need for better safety and security, with aspects like a map overview of rooms and green/red/gray colors to convey if they are vacant or occupied during an emergency situation.
"I don't care whether it's a school, a commercial facility, a hospital, we're seeing increased incidences where facilities need to go into lockdown, lockout, shutout and all that – so that really is what drove our 2.0 release of the C4000. It was all about enhancing the safety and security of whatever institutions the system was installed in. One of the things we did to accommodate that was this whole concept of being able to 'check in,'" says product manager Ken Venuti.
Return To:
Reinvented AV Products at InfoComm 2019: New Features You Didn't Know You Had