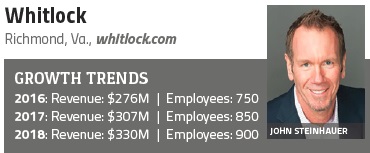 Among the AV integration firms at the top of the revenue food chain Whitlock has been unique in that acquisitions haven't been a part of its growth strategy. That doesn't mean it hasn't been growing aggressively. In a recent Q&A with Commercial Integrator, John Steinhauer ran threw a litany of factors that contribute to Whitlock's consistent evolution.
Geographic reach through Global Presence Alliance
Unique sales team segmentation
Commitment to as-a-service business
More scalable solutions for customers
Whitlock — "Organic growth"
Richmond, Va.
Return To:
18 Fast-Growing AV Integration Firms and What You Should Learn from Them