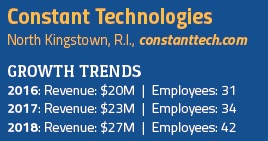 In a way, Constant Technologies has attached itself to demand for mission-critical projects and that appears to have been a good decision. "The world of mission critical is always growing. More and more organizations require 24/7 command centers, and at an increasingly high standard," says Kelly Okerson.
Constant Technologies — "Growth is mission critical"
North Kingstown, R.I.
Return To:
18 Fast-Growing AV Integration Firms and What You Should Learn from Them