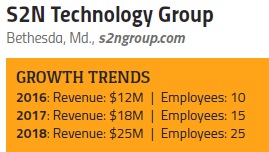 In three short years, S2N Technology Group grew from a $12 million revenue integration firm with 10 employees to the $25 million plus it projects in 2018 now with 25 on staff. The aggressive growth, more or less, is the result of S2N continuing to do what it does well, says David Livingston.
Nearly half of the company's business comes from the health care market and he says strong relationships with several of those customers "has given us the opportunity to do repeat business with them as they expand."
S2N Technology Group — "Planning to be bigger"
Bethesda, Md.
Return To:
18 Fast-Growing AV Integration Firms and What You Should Learn from Them