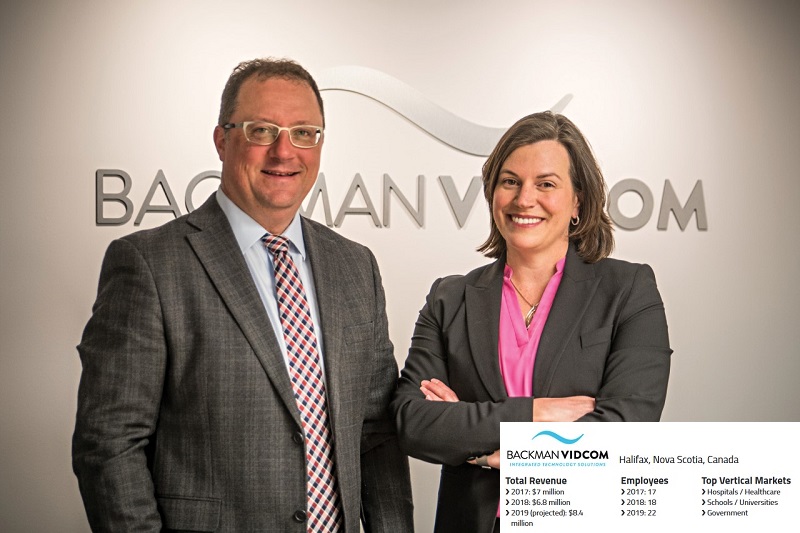 Backman Vidcom
Halifax, Nova Scotia, Canada
Two categories have really helped Backman Vidcom in the past two years: AV over IP and customized digital signage.
"We teamed up with an IT firm to help deliver a comprehensive managed services and support program for a municipal council chamber and broadcast system," says Backman Vidcom VP Tom Murray.
Backman Vidcom has also been helped lately by offering a customized digital signage solution for a series of provincial retail outlets selling cannabis.
"This required strict back-end processes and adherence to inventory tracking and data security in real-time," says Murray. "It wasn't a simple digital signage solution. It required a great deal of intricacy.
"The project gave us a tremendous amount confidence in our ability to deliver projects of similar size, magnitude and complexity," he says.
A big part of Backman Vidcom's success has been "learning from previous project installations and determining the best approach, process, product and implementation that gives the best chance for successful outcomes," says Murray.
The result yielded a self-established standard that Backman Vidcom employees still follow today, says Murray. Company leaders standardized its implementation approach for dozens of video conferencing rooms of various sizes and requirements for a large provincial government client.
Return To:
2019 Fast-Growing Firms: 14 AV Integration Companies with Revenue-Growing Commonalities