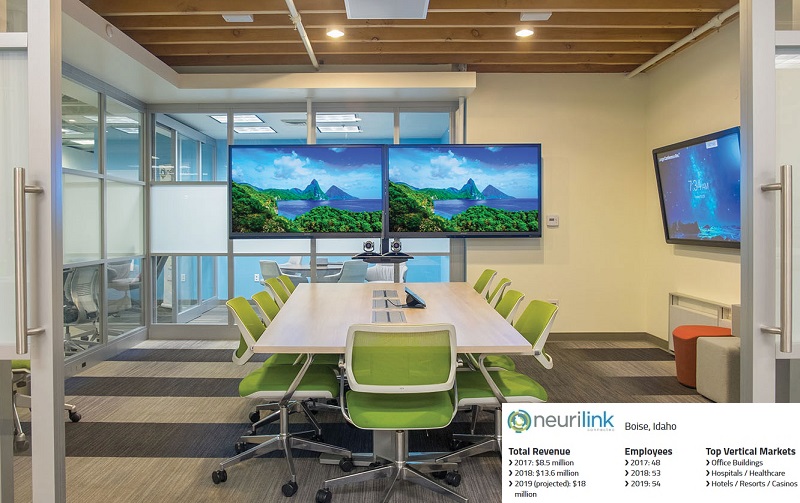 Neurilink 
Boise, Idaho
Neurilink has literally more than doubled its revenue in the past three years, in large part due to its work in the collaboration, digital signage and video wall spaces.
"The user community is still uncertain as to what platforms they will embrace, and therefore UC solutions keep us engaged with all the platforms and various hardware technologies that work together," says Neurilink CEO Michael Fornander.
Neurilink takes pride in being "a full-service design and engineering organization that can then initiate the install, services and support for all types of workspace AV technology," he says.
He credits "the process of leading a customer through the discovery phases of working towards an organizational standard based on workflow, room type, space needs, etc." as a main driver in Neurilink's fast growth in recent years.
A big part of Neurilink's growth lately is "our commitment to the Northwest and our commitment to our team," says Fornander.
"Instead of taking advantage of opportunities in other markets throughout the U.S., we've invested in expanding local expertise to provide a better customer experience in the locations we serve," he says. "We believe strongly in employing the talent and skills locally to ensure resources and execution is always available and timely."
Being members the PSNI Global Alliance allows Neurilink "to serve clients headquartered in the Northwest with installation needs outside of the area," says Fornander. Their ongoing "commitment to creating a fun, positive, opportunity-filled environment" also helps, he says.
As startups continue to crop up and more companies move into the Northwest, Neurilink has remained committed to its existing customers in addition to exploring the new opportunities in their backyard, says Fornander.
Return To:
2019 Fast-Growing Firms: 14 AV Integration Companies with Revenue-Growing Commonalities