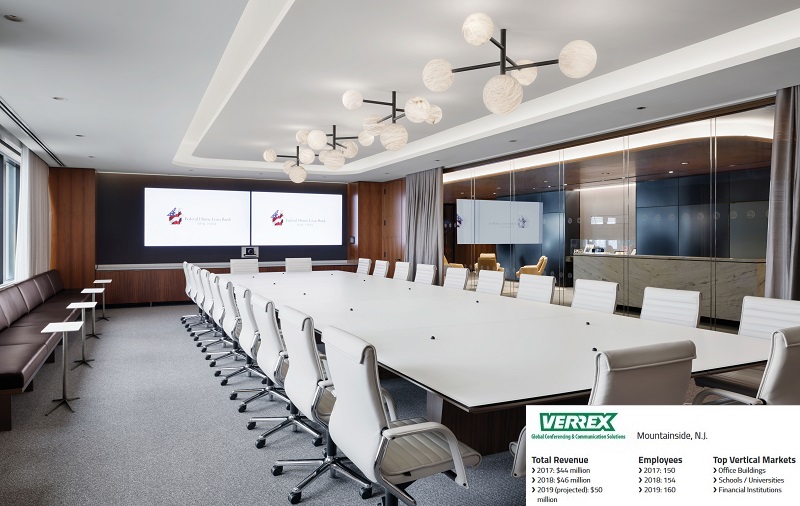 Verrex 
Mountainside, N.J. 
Verrex continues its slow, steady growth based primarily on its focus on "comprehensive workplace strategy solutions," says Theresa Hahn, VP of marketing and business development.
"Rather than a single application, we've seen an increased emphasis on 'choice' in workplaces, translating into multiple applications and space/solution types to fit different workstyles and activity-based working," she says.
"Enclosed offices and open space, huddle rooms and focus rooms, six-seat conference rooms and 20-seat conference rooms all fit our clients' strategy goals," says Hahn.
Employee amenity spaces (also referred to now as "employee support spaces") have grown into pantries, lounges for social interaction, fitness centers and outdoor areas and Verrex has found that to be an important growth area, she says.
Verrex has also worked hard to build consistency across the global organization, says Hahn.
"Although Verrex has multiple offices across the globe, our model and approach aren't siloed," she says. "We are fully aligned and work together seamlessly across borders – both geographic and discipline – to serve clients.
"Significant opportunities have developed because of this model," says Hahn, specifically in the mid-market and enterprise business segments. In the finance sector, Verrex experiencing more demand for standards, resulting in technology refreshes to align multiple locations.
"Standards no longer apply only to the technology," says Hahn. "It also includes enterprise-level design and drawing package standards, training and adoption plans, service plans and staffing."
To ensure the company is practicing what it preaches, Verrex has adopted a customer relationship management and service console platform, which provides "more relevant and actionable data aligned with our client goals and our growth goals," says Hahn.
Return To:
2019 Fast-Growing Firms: 14 AV Integration Companies with Revenue-Growing Commonalities