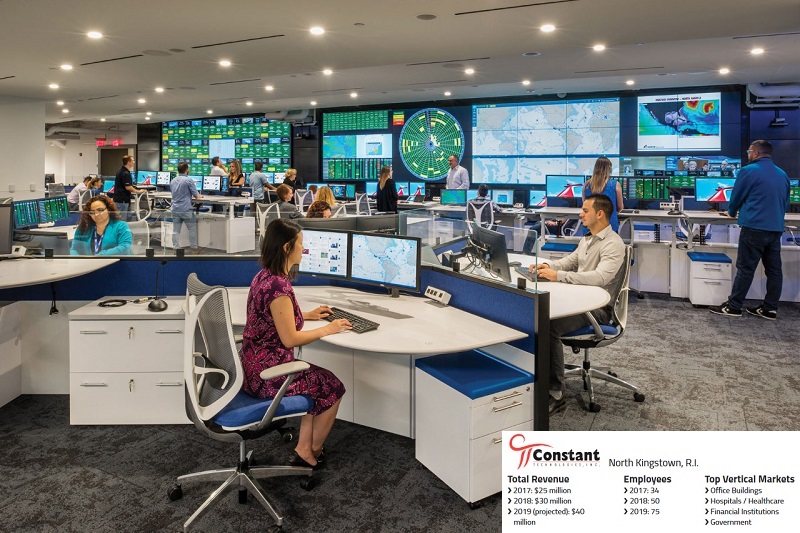 Constant Technologies 
North Kingstown, R.I. 
You might be surprised to see a company from the smallest state in the U.S. on the list of Fast-Growing Firms, but Constant Technologies has been buoyed by "significant growth" in video walls and collaborative solutions in the past three years to earn its spot among this elite company. 
"A substantial driver of this growth is our specific expertise in video wall technology and collaborative, content-sharing processing solutions, allowing multi-site capabilities," says sales and marketing associate Kelly Okerson. 
Constant Technologies has been there as the definition of a mission-critical operations center has expanded, says Okerson.  
"Our philosophy has always been to focus on our highly specific area of expertise and to grow with the industry," she says. "'Mission–critical' often conjures up images of a room like NASA mission control, where rows of technicians are viewing information on a large monitor wall. While this is a good example of an operations center, there have been many other types developed in recent years." 
Constant Technologies' primary obstacle as it continues to grow is not losing the formula that helped the company achieve success in the first place, says Okerson. 
"As we grow, we continue to emphasize ensuring quality control and value of workmanship," she says. "We've added strategic positions to ensure that this process not only takes place in our ever-increasing racking facilities, but also on the road. 
Return To:
2019 Fast-Growing Firms: 14 AV Integration Companies with Revenue-Growing Commonalities