Recently Retired: KC Schwarz Looks Back on His Time at USAV and Says Pro AV Should Set High Standards
Now-retired USAV Group CEO K.C. Schwarz was skeptical about need for Pro AV groups like the one he led, but their value quickly became evident.
Leave a Comment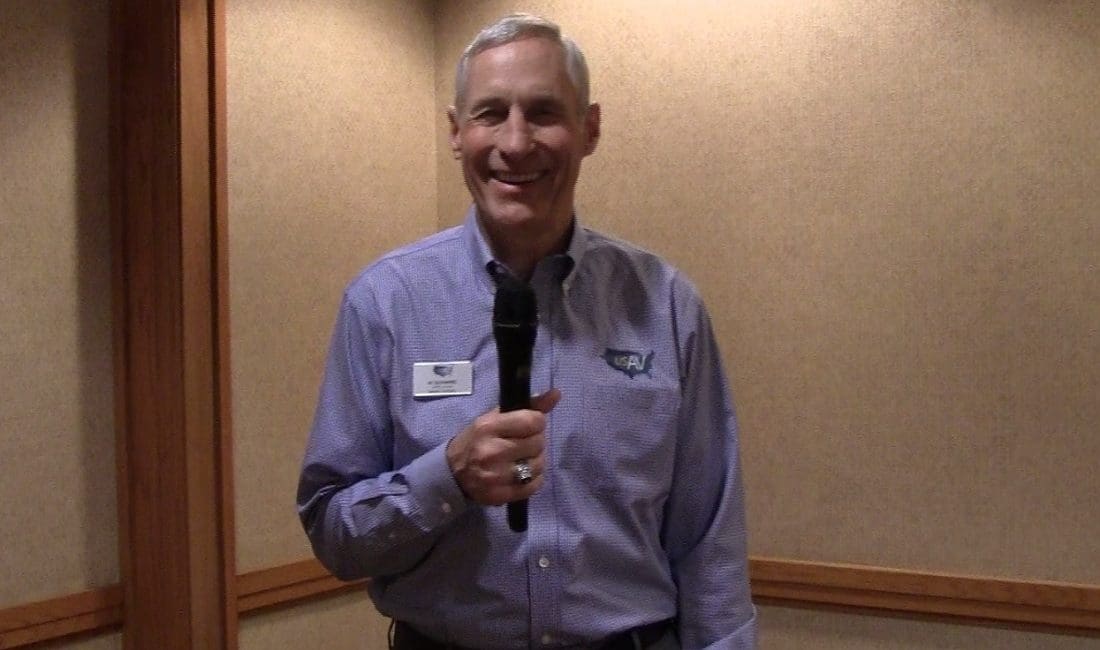 When KC Schwarz joined USAV Group 12 years ago as its chief operating officer, he wondered a little bit about the value of groups like that in an industry where it seemed to be all about beating your competitors to work and racking up as many customers as possible.
What he came to learn, though, is there's incredible value to having Pro AV systems integrators, manufacturers and distributors working together to achieve common business goals together—and that helped USAV grow under his dozen years leadership with founder and CFO Chris Whitley.
"Twelve years ago, the AV industry was like the crafts and guilds of the past and they were very proud of that," says Schwarz. "That's changed markedly into mass production because people expect a mass-produced solution that's plug-and-play. Those who haven't made that transition are struggling.
"An old business partner of mine always used to say you should never underestimate the ability of the average human to just muddle through. This industry has grown up to the point where it's very rare you can make a living if you're doing that though. Working together to raise the high-water line was very important. If you try to be the Lone Ranger, you're much more likely to fail," he says.
KC Schwarz credits AVIXA CEO and executive director David Labuskes for understanding the importance of and the need to emphasize the AV experience to help Pro AV integrators distinguish themselves from their IT counterparts, but he knows they need each other.
"You have to understand your place in the value chain," says Schwarz. "We have something IT doesn't have and that's when we're selling something that has value."
The Post KC Schwarz Future of USAV Group
Now that Schwarz, who became president of audio-visual for PSA Security Network when USAV Group joined PSA in May 2017, is retired, he expects the group he worked so hard to build for the past 12 years to really take off under Whitley and Chris Salazar-Mangrum, who shifts from his role at PSA to focus on strategies and procedures at USAV.
"I know USAV is in very good hands and will do just fine," says Schwarz, who celebrates his 65th birthday May 19 by embarking on a family cruise with his wife of more than 40 years, Anne; his two daughters, son-in-law and three grandchildren. "There's very little from me that will be missed."
That humility is a trademark of sorts from Schwarz, but those who know him well realize the mark he's left on the Pro AV industry and the forward thinking that led him and Whitley to not only launch CI Edge, a group that caters to small Pro AV integrators, but also to sell USAV and CI Edge to PSA.
Schwarz's retirement came one year after the sale closed.
"When you have a smaller private company, the process of transition can be very complicated," says Schwarz.
"Most of us can't just walk away and close the door." Schwarz had been discussing his future with Whitley for about five years but the talks ramped up during negotiations with PSA CEO Bill Bozeman.
For the first three or four months after USAV joined PSA, Schwarz looked more closely at how the two entities were aligned—and more importantly where they weren't.
The next four months involved focusing on synergy between the groups, while his last four months on the job were about working with Whitley and Salazar-Mangrum to ensure a smooth leadership transition.
"Whenever you put two businesses together, there are all these great ideas before the sale, then you wonder if it's going to be the same after the deal is done," says Schwarz. "We were all consistent, so there were no big surprises.
"We didn't have as much in writing as we should have. A lot of those things were in my head so we had to do some of that before I left," he says.
KC Schwarz expects to see USAV dealers adopt the PSA margin model, which gives them more of a role within the channel and boosts their percentages on a particular sale. He has seen some projects where PSA and USAV integrators worked together but knows that won't happen overnight.
"You can't push almost 200 dealers around," says Schwarz. "You can't make Pro AV dealers into security dealers or security dealers into AV dealers. I had a sense of anxiety to get them crammed together, but that's going to happen when the market demands it."