Here's What's In Cisco's Redesigned Webex Suite
Cisco has unveiled a redesigned Webex Suite designed for hybrid work that includes new devices, AI-powered features and new integrations.
Leave a Comment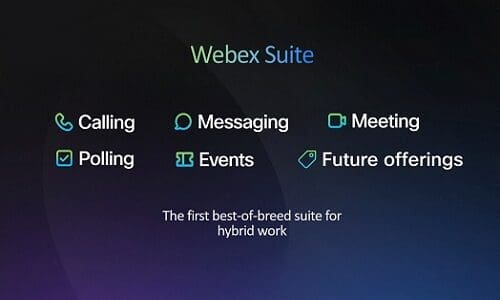 Cisco has unveiled a redesigned Webex Suite specifically designed for hybrid work, including hundreds of new features powered by artificial intelligence, events management, new integrations and new devices.
The new Webex Suite – that comes with a rebranded logo – is a single subscription that gives customers access to all integrated applications, including calling, messaging, meetings, polling and events, eliminating the need to purchase separate solutions for different tasks.
Here's a rundown of the new features Cisco announced today:
New integrations and devices
The redesigned Webex also comes with new integrations that make the experience more seamless, including the full integration with audience interaction platform Slido, which give suers access to features like polling, quizzes, and real-time Q&A.
The company is also rolling out a new portfolio of purpose-built Webex devices designed for hybrid work, including its new Webex Desk series that ranges from the Webex Desk camera and headset to the all-in-one Desk Pro collaboration device. The company also released the Webex Desk device, a smaller version of the Desk pro.
All of these devices are designed to integrate with the Webex Suite, and users get access to the special Webex cloud promotion pricing on all devices.
The company is also making improvements to Webex Assistant, its AI-powered meeting assistant, that allows customers, partners and third-party developers to customize skills and commands for specific needs.
And, the company says it has developed "the most comprehensive event platform in the industry" with Webex Events being expanded to accommodate 10,000 attendees and a webcast mode that allows for up to 100,000.
The company is also acquiring Socio Labs to bring modern event management technology to Webes Suite.
More translations and audio intelligence
The company is expanding its real-time translation feature that previously only translated from English to more than 100 languages to include 11 other spoken languages including Spanish, Chinese, French, German and Italian.
The company is also expanding its noise removal with the introduction of the My Voice Only Feature that can distinguish between a user's voice and other conversations taking place around them.
Cisco announced People Focus, an advanced camera intelligence and facial recognition feature that makes sure every meeting participant shows up equally on the screen regardless of their location.
Wellness improvements
One big part of navigating remote and hybrid work is managing employees' mental health as they battle videoconferencing fatigue and other pandemic-related stressors, and Cisco is aiming to solve this with features that take some of the bite out of endless video meetings.
One is an integration with the Thrive Reset app that will send users a message to take a short break if they've been in back-to-back meetings. This can be personalized to include images, quotes, music, or mindfulness exercises.
Cisco is also improving People Insights, a recently released feature that includes real-time data on a user's usage, to include Personal Insights that gives users the ability to set personal goals and view real-time progress against them within the Webex Suite.
A more secure platform
For improved security, Cisco designed the new Webex Suite around a zero trust framework that requires verification from every user before they can gain access to resources or data.
The company also introduced what it says is the industry's first real-time data loss prevention capability that can prohibit classified content from ever being sent rather than redacting or deleting content after it is posted.
Managing hybrid work
The redesigned Webex Suite also comes with more management and control capabilities for IT administrators to support end users thanks to the integration of the Webex Control Hub and Webex devices, giving administrators the ability to manage devices and push security patches for firmware updates more efficiently.
The Webex Control Hub now also includes new user satisfaction surveys that can help give administrators insights into issues users are having.
Going forward
Webex, once the king of conference rooms, has given up significant ground to competitors like Zoom and Microsoft Teams. This overhaul of Webex is clearly designed to bring the platform back to relevance and better compete with those industry leaders.
The redesign and new features aim to address hybrid work issues and make life easier for tech managers and end users, especially because all services are included with a single subscription. However, Microsoft Teams offers similar features that make the platform an all-in-one collaboration hub, and Zoom is also working on similar features. 
Integrators are already tasked with offering customers solutions that work around their preferred UCC platform, and with the entire industry on a feature improvement blitz, that trend should continue.
If you enjoyed this article and want to receive more valuable industry content like this, click here to sign up for our digital newsletters!