BrightSign Announces BSN.cloud Player Management Platform
BrightSign BSN.cloud cloud management platform for connected digital signage networks will be launching in the second quarter of 2019.
Leave a Comment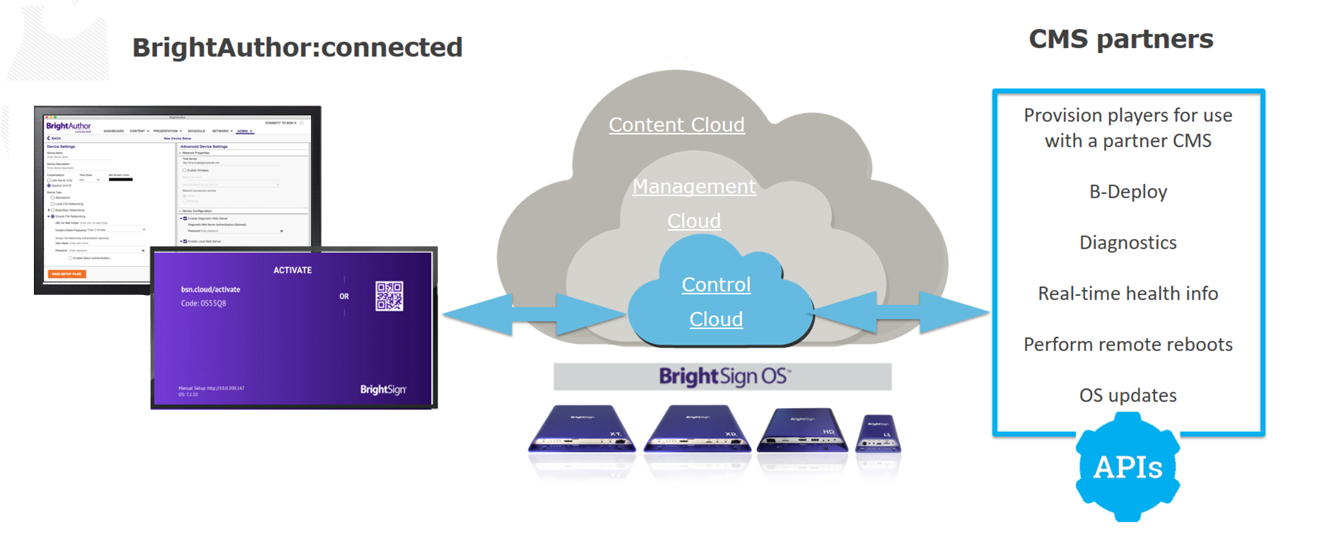 BrightSign LLC recently announced the development of BSN.cloud, a player-management platform driven by BrightSign OS 8.0.
"BSN.cloud consists of three clouds," said BrightSign CEO Jeff Hastings in the company announcement.
"At the base level, the Control Cloud subscription is included with every player. It offers BrightSign customers simple provisioning and setup options and real-time data about player health."
Within the Control Cloud level, the B-Deploy feature enables remote configuration of players, reducing install times, player setup and provisioning.
"Large-scale rollouts are greatly simplified via new options for automatically setting up large groups of players simultaneously," according to the BrightSign press release. "For small-scale rollouts, a new on-screen setup process utilizes QR codes for easy player setup via mobile phone."
More BrightSign BSN.cloud Features
The Control Cloud also includes "access to view real-time health information of the player and the ability to change configurations and deploy operating system updates in real time without having to ever physically interact with the player," according to the BrightSign announcement.
Appspace, Carousel Digital Signage, Creative Realities, Diversified, Four Winds Interactive, Mvix, Reflect Systems and Signagelive are just a few of BrightSign's partners using the BSN.cloud APIs to integrate their software with the BSN.cloud player management platform.
Regardless of the software chosen for a project, all BrightSign players can connect – at no charge – to BSN.cloud and take advantage of all the Control Cloud services.
"As it becomes increasingly common and more desirable to connect all kinds of devices to the cloud, digital signage for the vast majority will exist as connected networks," said Hastings in the BrightSign press release.
"BSN.cloud is a robust player management platform intended to provide secure and scalable networking options for end-users, integrators, network managers and DOOH operators," he said in the company announcement.
The other two clouds within BSN.cloud are the Management Cloud and the Content Cloud. The Management Cloud is a data-driven cloud service that delivers a complete set of digital signage network management tools to the end-user.
It collects and stores data about performance measures that are important to network managers such as advertising proof of play, player performance and health, remote snapshots, etc.
The Management Cloud pushes out email notifications about issues important to end-users such as a subscription that is about to expire or players that are reporting errors. At the highest level, the Content Cloud adds the media library and content feeds, schedules, presentation management and content distribution tools.
BrightSign's user interface into the BSN.cloud player management platform is the new BrightAuthor:connected which will be available in the second quarter of 2019. Other UIs will be available in the coming months from BrightSign CMS and channel partners.