Visix Ships Wayfinding with Voice User Interface Application
Visix voice-activated wayfinding applications were a big hit at InfoComm 2019 in Orlando and offer a hands-free way to interact with screens.
Leave a Comment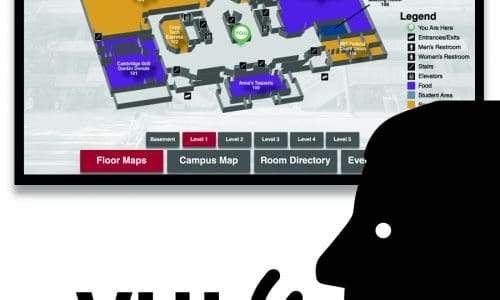 Visix, Inc. recently announced the immediate availability of its voice-activated wayfinding applications, which it showcased at InfoComm 2019 in June.
The application "comes alive through its built-in voice user interface (VUI) and provides audiences with a hands-free way to interact with screens," according to the Visix announcement.
VUI represents "an evolution in audience interaction," according to Visix president and CEO Sean Matthews.
"Visix is using VUI to further improve the user experience by offering multi-modal interactions with screens showing any type of content," according to the company announcement.
"The VUI uses speech recognition to understand spoken commands and questions, and will be familiar to any consumer who uses VUI platforms such as Alexa, Siri and Google assistant," said Matthews in the Visix announcement.
"This unlocks tremendous opportunity to drive stronger engagement in businesses, on campuses, and within public spaces, while making the search-and-return process more convenient and efficient," he said.
What VUI Means for You
"VUI is especially ideal in wayfinding applications, where voice instructions quickly return visible maps, paths and directories on demand," according to the Visix announcement.
"The design integrates traditional wayfinding touch options and ADA controls, adding value for customers and consumers alike. VUI can assist with ADA guidelines by providing interaction options for the visually impaired," the announcement says.
Visix also sees value for healthcare clients, where voice interaction in hospitals and medical centers can reduce the transmission of germs, according to the company announcement.
Visix was among the top digital signage software brands mentioned by CI readers in a blind survey last year. The company's products were ranked second by survey respondents behind BrightSign and tied with Microsoft, Samsung and Tightrope in the category.
Visix has also been working in the mass notification space this year with AxisTV Alert Software among its 2019 new releases. This stand-alone alerting platform can be used with any CMS, including Visix's own AxisTV Signage Suite, and integrates with third-party alerting suites.