2018 Digital Transformation Index
Download this free research report to learn how companies are adapting in the age of digital transformation and technology disruption.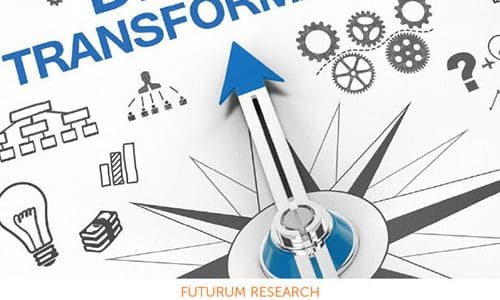 In H2 2017, Futurum surveyed over 1,000 North American and Western European companies ranging from 50 to 50,000 employees, and asked them to share their thoughts about technology disruption and Digital Transformation.
They wanted to measure the impact of technology disruption on job creation, business performance in the last three years, future competitive outlook (next 3 years), agility, and attitudes.
Some of their most noteworthy findings:
2 out of every 3 companies appear to be generally capable of adapting to technology disruption inside of three years.
Roughly 1 out of every 5 companies currently qualifies as a Digital Leader: a highly agile, technology-savvy company for whom technology disruption is a catalyst for growth.
Roughly 1 out of every 5 companies currently qualifies as a Digital Laggard: an at-risk, change-averse, technology-challenged company unable to cope with technology disruption or the pace of change.
Is your company leading the way or falling behind in technology adaptation?
Included in this free research report:
A Look at the Past Three Years and the Next Three Years
Technology Disruption's Impact on Job Creation
Identifying Obstacles to Digital Transformation Success
Gauging an IT Department's Agility
Ten Core Digital Transformation Technologies
Find out how your company stacks up. Download the "2018 Digital Transformation Index" today.