2018 Video Collaboration Special Report: Research, Products and Projects
As video conferencing market customers adjust room usage & applications widen, integrators see a bright future for video collaboration solutions.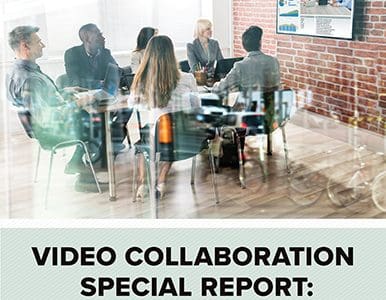 The market for video collaboration is a broad one, ranging from conventional systems that rely on hardware collaboration solutions like screens and cameras, to software-based platforms configured as apps on smartphones, tablets and other personal devices.
According to a market report published in April by Transparency Market Research, the global video conferencing market was valued at just over $5 billion in 2016 and is expected to expand at a CAGR of 7.9 percent from 2018 to 2026, to reach $10.5 billion by the end of the forecast period.
Integrators are finding video collaboration to be a fertile field, says George Maniatis, account manager at Mountainside, N.J.-headquartered Verrex.
"There's a very wide range of possible solutions out there and choosing among them can be challenging," he says, ranging from hardware-centric collaboration solutions from traditional vendors like Polycom and Cisco to software-based ones like Skype and GoToMeeting to apps on smartphones such as Zoom.
This free download, "Video Collaboration Special Report: Exclusive Research, Products and Projects," covers everything you need to know, including:
Collaboration Technology in Education
Corporate Collaboration Needs
How Businesses Use Video Conferencing Differently
Where the Demand Comes From
Manufacturers Cater to Today's Meeting Rooms
Integrator's Projections
What Motivates Collaboration Tech Customers
Read about the latest video collaboration research, products, and projects. Get This Free Special Report Today!