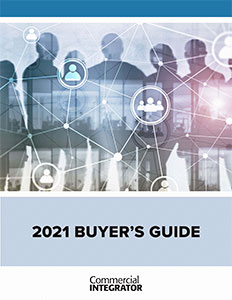 CI's annual guide of who's who in commercial integration solutions is now available. The 2021 Buyer's Guide makes it easy for you to find what you are looking for. The Category Index sorts providers by product and service types while our A-Z Vendor list provides contact information for each of these companies. Product and service types include:
Audio/Video
Building Enhancements
Control & Automation
Networking and Communications
Security
And much more!
Download your copy of the 2021 Buyer's Guide today to access this annual list and get started on your next project.