2022 Digital Signage Deep Dive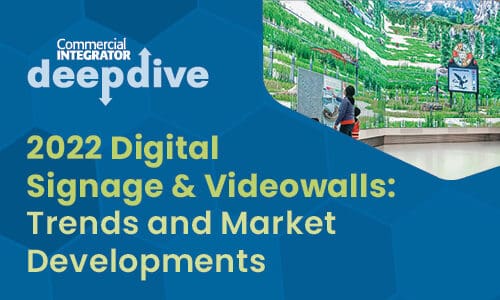 Commercial Integrator's annual Digital Signage Deep Dive is the most comprehensive, ambitious coverage of digital signage and videowalls that we offer all year. The Deep Dive report is the product of hours of work, incorporating independent research with a 20-integrator focus group, data exclusively from AVIXA's market intelligence team, in-depth interviews with tastemakers in the category, and valuable insights from the space's most influential display and software vendors. In short, our Deep Dive report is a digest of the latest trends, technology advancements, market opportunities and foreseeable challenges, written from the perspective of those who live and breathe digital signage and videowalls every day.
Just to hint at some of the specifics, the Deep Dive report quantifies the strong growth that digital signage is currently experiencing, while also giving insights into whether that growth is sustainable. Moreover, it touches on whether content creation is an appealing opportunity for AV integrators and, if so, how they can capitalize on it. There's also a discussion about which technologies (e.g., LCD, LED, OLED) offer the most value in various contexts and which technologies are moving toward market dominance. What's more, the report considers videowall-related issues like pixel pitch and how tight it ought to be for various applications, as well as which verticals represent the best opportunity to leverage videowalls' power to inspire awe and wonder.
Download now!