2022 Networking Deep Dive
Explore the ascendance of network-based AV and its implications for integrators'
profitability in the 2022 Networking Deep Dive report.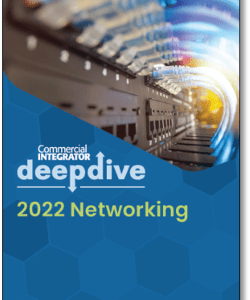 Today, AV integration has largely become network based. As a result, AV integration firms have, in a sense, transformed into IT companies. This industry convergence creates measurable new opportunities for CI readers. However, there are also challenges and pain points.
In the "2022 Networking Deep Dive Report" our editors take a look at the AV to IT transformation, which looks at critical trends such as:
Defining the convergence of AV and IT
Understanding the role of managed services in an IT environment
Recognizing the paramount importance of cybersecurity
Considering AV-over-IP
And much more
Download your copy for insights into how the latest IT trends and technologies can help you grow your commercial integrator business by
filling out the form on the right.