2023 40 Influencers Under 40 List
We celebrate the exceptional 40 Influencers Under 40, Class of 2023, who are propelling their organizations to new heights.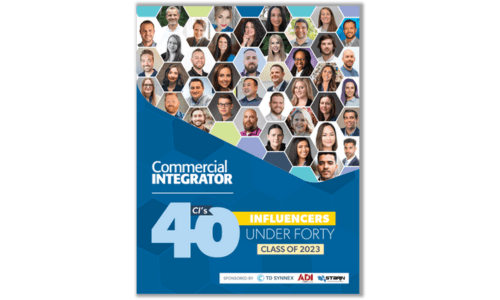 Although commercial AV businesses should work even harder to recruit the next generation into our industry family, it's also true that AV integrators, manufacturers, distributors, etc., already boast some of the most remarkable twentysomethings and thirtysomethings you'll find anywhere on the planet. Our industry talent pool is worth celebrating—and, this month, we're doing just that!
Thus, CI proudly presents our 10th annual 40 Influencers Under 40 list for the year 2023. Just as we did last year, we removed restrictions that formerly excluded vendors and distributors from consideration. Instead, we've opted to allow the industry community to speak for itself, selecting the most dazzling women and men in the business, regardless of whom they work for!
We're very proud of the fact that, this year, the list is fully gender equal. Our editors believe that representation matters, but our list also reflects the fact that women, although still highly underrepresented in commercial AV, punch well above their weight in terms of industry impact. We're also proud to highlight several personalities from the world of higher education, a vertical that continues to grow in stature and importance.
We hope you enjoy this year's piece; If you're active on LinkedIn, consider connecting with some of these young professionals! Our editors believe they're going to be — and perhaps already are — world-changers.