Case study: Custom-built LG Commercial Display Solutions Deliver Engaging Experiences At New Insight Enterprises HQ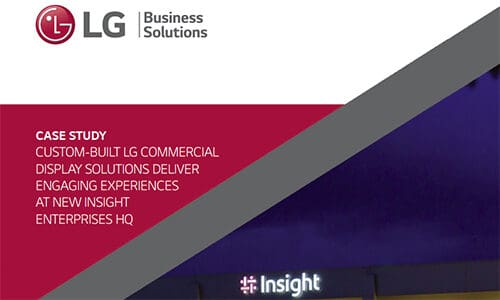 When Insight Enterprises set out to build a new 200,000-square-foot headquarters in Chandler, Arizona, the company's leaders seized on the opportunity to design workspaces and common areas that deliver immersive technological experiences and demonstrate the firm's capabilities to employees and visitors. And it needed digital display solutions to accomplish that.
In this new case study, see how the company's new Gensler-designed headquarters showcases its own installation and design prowess with help from innovative LG digital displays. Highlights of the design include meeting spaces and training rooms with "writeable walls," unique hallway installations, and energy efficiencies that earned the building Gold LEED certification.
Download your free copy of this new case study today!