2018 State of AV Industry & Talent Recruitment
This report digs into the numbers of our annual 2018 Integration Business Outlook study. See how your company compares.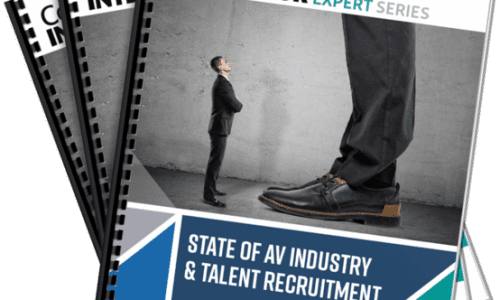 Optimism Is the Word for 2018 for the AV Integration Industry
Prospects for the AV industry are looking up in 2018. More than half of the 188 integrators and consultants describe their current overall business climate as either "very good" or "excellent," according to the annual 2018 Integration Business Outlook Study from Commercial Integrator and NSCA.
That comes after the year 2017 saw major acquisitions and a 7.6 percent calculated growth. For 2018, Commercial Integrator foresees an annual growth rate of at least 9.45 percent with some respondents expecting 11 percent.
A comprehensive overview can be found in our FREE download, "State of AV Industry & Talent Recruitment." The industry survey points to several trends and positive aspects. They include:
Acquisitions: They're likely to continue as firms try to add new geographic regions or vertical markets to their bottom line and private equity money seeks companies, too.
Size Doesn't Matter: There's a place for both large and small firms, which can co-exist and bring different strengths to the table.
The (Still) Big Thing: Markets that continue to generate business are all aspects of video (conferencing, digital signage, collaboration, content distribution) and unified communications.
But there also are some causes for concern:
The Aging Industry: The industry is made up of mostly males with 59% older than 45.
Managed Services: Firms still are struggling with making the transition from project-based to service-based revenue.
Changes: To ensure a future, firms need to keep up with changes in the industry; otherwise, they risk being left behind.
Hiring: Finding good talent and getting the message out to students about career opportunities has been difficult although efforts are underway to spread the word.
Dig into the numbers to get the whole picture, and see how your company compares.