A New Way to Boost Integrator Revenue from Digital Signage
Programmatic advertising can lead to fast and reliable ROI for digital signage owners. Download this new guide to learn about how to educate potential buyers on how to make the most of their digital signage investment.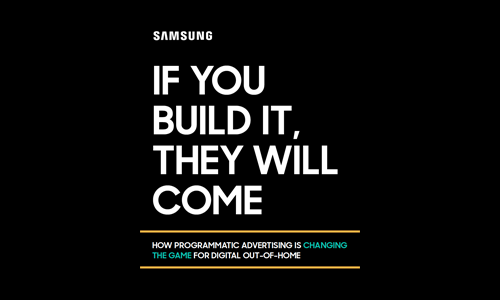 Programmatic advertising may be a crucial selling point for those are considering investing in digital signage. This new technology allows digital signage owners to sell a portion of their ad inventory on an online marketplace to marketers looking to buy ad space. The highest bidder gets to display their ad, while the sign owner can enjoy fast, reliable ROI without having to lift a finger.
As an integrator, it's important to learn about the multitude of benefits provided by programmatic advertising and the costs of installation so that you can advise potential sign buyers on the future of digital signage.
This new whitepaper "If You Build It, They Will Come: How Programmatic Advertising is Changing the Game for Digital Out-of-Home" will help you communicate to potential sign owners:
How programmatic advertising works
How those who are looking to buy digital signage can be empowered by programmatic advertising
How to get the most out of investing in digital signage
And Much More…
Download your copy today to learn more information about how to discuss the future of digital signage with potential buyers.