Revamping the Conference Room Experience
Defense Contractor Revamps Conference Room Experience With Alabama's First 130-inch All-in-one DVLED Display / National Governors Association headquarters enhances capabilities and image with LG displays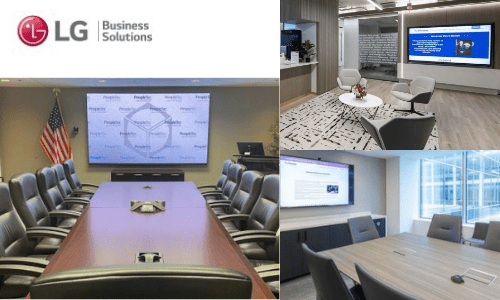 With many organizations returning to office, technological upgrades are crucial to meet the expectations of staff and colleagues alike. In this Download you'll learn the National Governors Association and PeopleTec have utilized LG Business Solutions to revamp conference rooms and workstations to stay on top of technological advances.
With a foundation in technology innovation and a wide range of digital signage solutions, LG Business Solutions offers cutting-edge features and modern design, while delivering an exceptional viewing experience to enhance audience engagement. With its dedicated engineering and customer support team, LG Business Solutions delivers technology solutions tailored to the particular needs of virtually every business environment.
Why are companies excited about LG?
Deep product portfolio
Integration into existing strategies
Brand standards
Industry knowledge
Premium displays
Download now for a closer look into how these organizations utilized LG Business Solutions.