State of the Market: Digital Signage and Video Walls
The opportunities to provide customers with digital display technology are vast, download this free report for an in-depth look at the state of digital signage and video walls.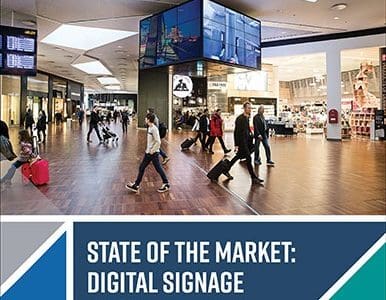 Digital signage and video walls are everywhere, creating infinite opportunities for integration firms.  But so is the need for new knowledge and abilities.
Digital signage and video walls are quickly transitioning from niche technologies into standard tools in the AV kit. They bring with them technical and creative challenges such as content development, production, and management.
How does a typical digital signage or video wall customer approach content creation?
What will continue to drive digital signage adoption?
How much does a typical customer spend on a digital signage project?
Should you offer your customers a managed servics contract related to maintenance, updates, content and more?
But they also offer integrators' clients a more comprehensive and effective solution to their messaging needs.
Our take on the state of the digital signage and video walls market calls on a survey of the CI audience. Hear what they had to say in this in-depth report: State of the Market: Digital Signage and Video Walls".
You'll be surprised at what we learned.
Alan Brawn, Brawn Consulting: "Today, it is all about selling the experience, and allowing the client to provide the experience to their viewers. At a minimum, system designers must understand what video walls can and cannot do in terms of creating the experience."
"There is strong growth in the transition to LED in the digital signage market," says Steve Seminario, VP of product management, Leyard and Planar.
Being able to support the potential future scalability of an end user, says Panasonic's Rudolf Vitti. "They need to make sure that they are able to take a single installation and expand it to a full-fledged network."
Tiffany Dozier, EVP of channel sales at Premier Mounts, says "Over the next few years, I expect a significant increase in customizations that add more interactivity, resulting in higher customer retention because of the enhanced user experience, especially in applications where crowds can interact and feed their own user experiences to the video wall."
Results from our survey reveal that integration firms and consultants that offer digital signage and video walls are seeing a positive impact on their revenue.
Get ALL the results in this FREE report!
---