The Bounce Back: CI's State of the Industry Study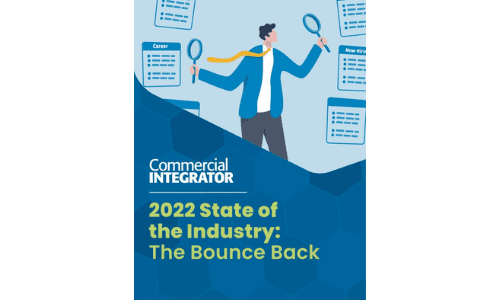 Each year, Commercial Integrator partners with NSCA to offer a study of the commercial AV integration market, assessing its areas of strength and its current challenges. The 2022 State of the Industry Study finds the integration industry bouncing back from an extremely challenging two years in which a global pandemic brought the world to a standstill, crippling financial markets and snarling supply chains. That bounce back manifests itself in abundant integrator optimism about the business climate and in widespread reports of integrators having had an "up" year. Integrators' projections of a positive 2022 revenue trend further augur well for a commercial AV industry that's enjoying a robust recovery.
The State of the Industry Study offers a 360-degree view of the integration market, covering not only auspicious financial trends but also red flags that warn integrators of potential landmines. For example, the report discusses distressingly small hardware margins, sluggishness in integrators' shift to leading with selling services, and the continued challenges associated with attracting, training and retaining top talent. The study offers constructive advice from Chuck Wilson, CEO of NSCA, and Tom LeBlanc, executive director of NSCA, as well as insights from Commercial Integrator's Integrator of the Year, Logic Integration, and AVIXA. Finally, the report offers encouraging news about integrators' readiness to jump into IT-centric environments and, thus, secure our industry's continued relevance in a merged technological ecosystem.
Download your copy today!