The Ultimate Guide to IT Sales Growth
Energize your sales process with 5 easy steps and use the time saved to pursue more clients. Download this free report to learn how!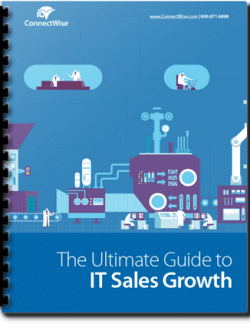 As a commercial integrator dependent on getting more clients, streamlining your sales process is a no-brainer. Consistency in quoting, getting quotes to the client as quickly as possible and professional-looking documents all contribute to your getting the sale.
In fact, after 8 years of reviewing sales records, it was found that 5 functions are key in helping sales teams become more efficient and save time. And saved time automatically translates into more opportunities for sales.
Automate Processes
At some point, the homegrown business processes are slowing you down, rather than providing efficiency; that's when you know you need a quote and proposal automation solution. One study shows an updated system enables users to send out 49% MORE proposals per month than non-users.
Accelerate Sales
Did you know that 50% of sales go to the first salesperson who contacts the prospect? The faster you follow up with Web leads, the more likely you are to convert someone. The ability to use E-signatures is another factor that can reduce the amount of time in your sales cycle, leading to faster closings.
Mobilize Your Sales Team
If you're visiting a client and the job changes, you can provide a new quote with the mobile version of your software. And if that software ties in with your sales management solution, you can avoid having to enter information into separate systems.
Impress Clients
Avoid mistakes and confusing quotes that sloppy, handwritten presentations can provide. Look more professional with a quote produced by a quote and automation proposal automation solution. The solution also reminds reps when to follow up to keep the sales proposal current.
Easily Manage the Entire Sales Cycle
Having the ability to see how are the sales reps are doing enables managers to shepherd reps through the sales process, providing advice when needed and making sure goals are met.
Get rid of the outmoded system you used in the beginning of your business, and replace it with a quote and proposal automation solution.
Sponsored by: