Your Future in AV is IP
Discover how the unstoppable global transition to IP-based networks in pro AV will impact you.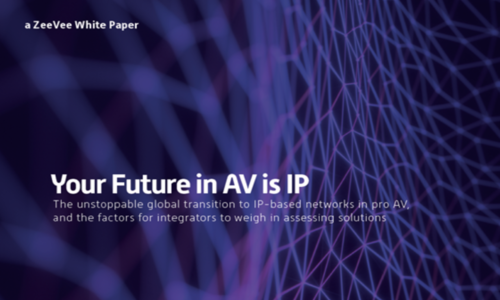 It's hard to believe so much has already been written about AV over IP (audio and video over Internet protocol, or AVoIP) with so little being said about why it is essential to the future of every AV integrator and integration business.
With the industry focus on engineering and cost benefits stemming from simplified system infrastructure, configuration, deployment, control and expansion — which are indeed all real and significant advantages — too little attention is devoted to a critical customer benefit that has already become a driving force accelerating its adoption: the capacity for real-time and interactive applications that enhance end-user experience and value.
These applications, some available now with many more to come in the future, will make IP-based data networks the must-have foundation for commercial AV solutions – in business, education, government, industry, hospitality, healthcare, entertainment, retail, public safety and every other market where pro AV integrators make their living.
While conventional point-to-point signal distribution has its role in presentation and other simplex (one-way) communication, the ability to convey, communicate and interact vocally and visually in real time, from every endpoint and multiple endpoints — throughout an office, building or campus — heralds an exciting and promising future for the pro AV business.
Rather than a creating a roadblock between AV integrators and their customary commercial clients, AV data networks open new avenues for integrators to serve (and sell) clients — while preserving their position as the expert authority to specify and install AV systems that meet the precise quality, performance and feature requirements of each customer. Failing to offer suitable AVoIP solutions results in integrators and integration companies marginalizing their business to a shrinking segment of the systems market. Competitive pressure is another factor pushing the market toward AVoIP solutions. Integrators, if they have not done so already, must begin to make the transition, since trends in the workplace and technology development foreshadow a future for AV systems functioning on IP-based
platforms.
This paper summarizes some of the "macro" marketplace trends that point to AVoIP's future primacy, reviews the technology fundamentals that make its appeal strongly compelling and finally discusses the factors integrators would be wise to consider in selecting manufacturers as their preferred solutions providers.
Sponsored by: