InfoComm by AVIXA: The Largest Pro AV Trade Show in North America
The largest pro AV trade show in North America: InfoComm by AVIXA is the place to learn, network and view all things commercial technology.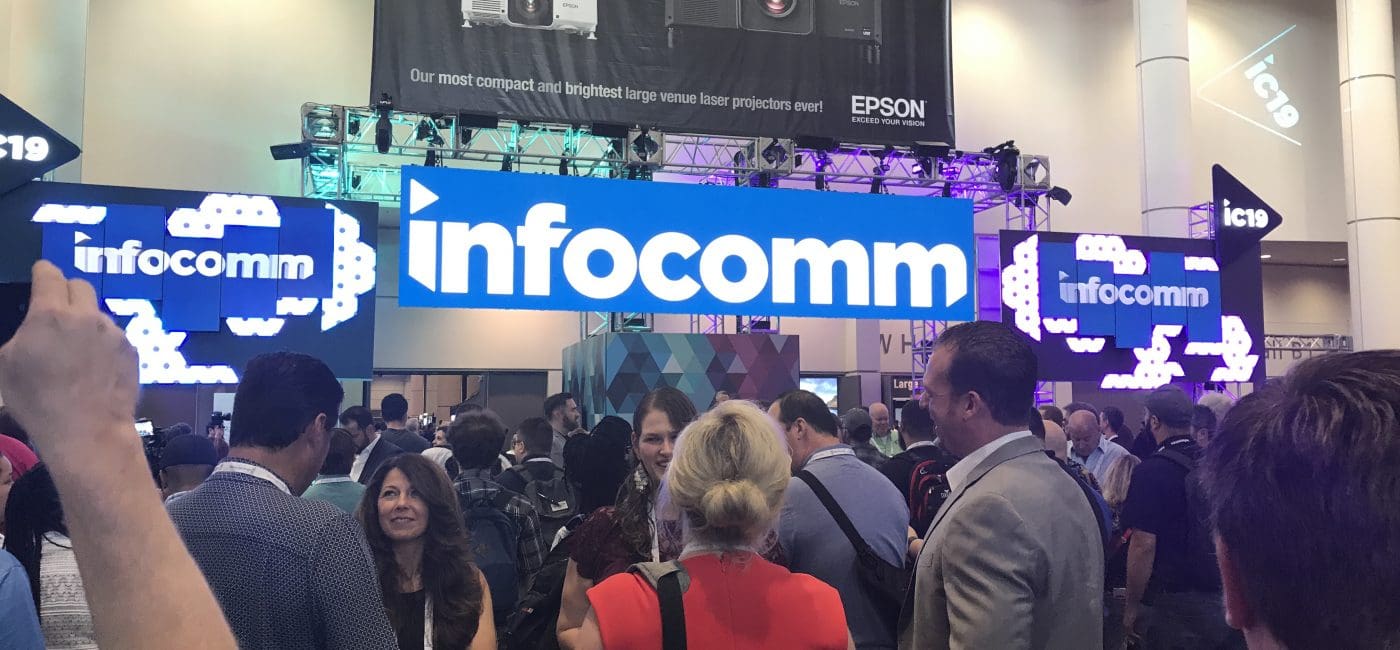 Orange County Convention Center South Concourse, 9899 International Dr, Orlando, FL 32819, United States
InfoComm is the largest pro AV trade show in North America with 1,000 exhibitors, thousands of products, and over 40,000 attendees from 110 countries.
Run by the AV trade organization AVIXA (Audio Visual and Integrated Experience Association), InfoComm is your once-a-year opportunity to see the latest audiovisual technology, learn the skills that will advance your career, and grow your professional network.
Where is InfoComm?
This pro AV trade show rotates yearly between Orlando, Florida (at the Orange County Convention Center), and Las Vegas (at the Las Vegas Convention Center).
Infocomm 2021 dates
InfoComm 2021 takes place from October 23-29th at the Orange County Convention Center in Orlando, Florida.
Why Go To InfoComm?
Who attends InfoComm? The AV trade show and educational components are traditionally targeted at AV professionals that work for integration or consulting firms. However, as AV has converged with IT and security, the show also provides value for security integrators and IT VARS.
Technology professionals from these groups that benefit from learning about new and existing products directly from the 1,000-plus exhibitors (for example, at InfoComm 2017) or take advantage of eduation from the 150+ seminars and workshops (for example, planned for InfoComm 2018) are candidates to attend.
AVIXA's Certified Technology Specialist (CTS) credits can be earned at many education sessions offered during InfoComm.
A less tangible benefit, but one that is considered valuable for many InfoComm attendees, is the networking opportunity. For technology professionals, InfoComm provides an opportunity to meet with countless colleagues, manufacturer partners and potentially form strategic alliances in one week.
It's important to note, however, that InfoComm isn't just for professionals working for integration or consulting firms. Increasingly, technology purchasing decision makers at end user organizations have sought out the pro AV trade show as a platform for learning about solutions for their companies.
In many cases, integrators or consultants bring top customers as guests to InfoComm to take advantage of being able to demonstrate products from the 1,000-plus exhibitors.
Meanwhile, many of these end users seek to maintain CTS certification and take advantage of opportunities to earn credits from education sessions during InfoComm.
InfoComm Training Opportunities
One of the most popular backdrops for AV Selfies every year at the shows is the CTS wall, which displays everyone who's earned that distinction, with a class topping 11,000 last year. Of course, show organizers hope to add even more names to the CTS rolls this year or renew those who earned the honor at the 2017 show in Orlando.
But there are plenty of other opportunities for 2018 attendees to learn something without visiting a single trade show booth. Among this year's AV Technology Tour options are visits to the University of Nevada-Las Vegas (UNLV), Hakkasan Group night clubs, the Omnia night club, The Beatles Love Cirque du Soleil extravaganza and the legendary Blue Man Group.
Show organizers will also offer a variety of classes throughout the week of the show, including a variety of seminar and workshop packages. And TIDE returns for a second year to InfoComm 2018, running from 8 a.m. to 5 p.m. on Tuesday, the day before the show floor opens.
Different Halls at InfoComm
It's certainly a challenge to be able to cover the entire show floor every year, and this year in Las Vegas is no different. But the good news is show organizers have divided the north and central halls into large sections to help those who have a singular focus in mind.
Unified communications and collaboration dominates much of the North Hall layout, which also features a new Integrated Life area that includes solutions for those looking to enhance their technology at their homes.
There's also a large swath of manufacturers in the North Hall who focus on digital signage and once again there'll be an area for first-time exhibitors in the back of the hall dubbed the Innovation Showcase (N384). The showcase allows visitors the opportunity to choose their favorite new product and the winning manufacturer gets a free booth at InfoComm 2019 in Orlando.
Smack dab in the middle of the North Hall, the appropriately named Center Stage (N1646) will feature a variety of speakers who will address high-level topics related to pro AV technology in a TED Talk-style format.
The Central Hall is dominated by audio and event production areas, along with some of the show's largest booths, including Crestron, NEC Display and LG Electronics.
What Is the TIDE Conference at InfoComm?
At the 2017 show in Orlando, a new element was added to the AV trade show – TIDE Conference. TIDE (Technology, Innovation, Design, Experience) is billed as conference within the tradeshow that explores the creative forces shaping the AV industry, and how businesses can leverage these concepts.
When it launched at InfoComm 2017 in Orlando it featured a stage area in the midst of the show floor that hosted short TEDx-like thought-leadership talks. The success of the platform lead to its adoption at Integrated Systems Europe 2018 in Amsterdam.
"When we came up with the idea for TIDE, we saw it as a way to give the broader contexts, both for InfoComm and ISE," Dan Goldstein, AVIXA senior VP of marketing and communications, told CI.
According to AVIXA, attendees s attending TIDE will:
Uncover Key Insights:  Discover new ideas for driving business and creative growth by making adopting Human-Centered Design in your organization.
Contextualize Technology: Before walking out onto the AV trade show floor, reset with a day spent contextualizing pro AV technology in terms of solutions and end results.
Meet Creative Colleagues: Network with like-minded professionals interested in exploring new ideas to drive business growth, in a comfortable and intimate environment conducive to making new connections.
Register for TIDE Conference at InfoComm 2018 here.
InfoComm by AVIXA: The Largest Pro AV Trade Show in North America Map
Lastest Posts on InfoComm by AVIXA: The Largest Pro AV Trade Show in North America