ISE: Integrated Systems Europe, the Largest AV Industry Trade Show
Integrated Systems Europe, or ISE, is one of the most important events in Pro AV and commercial technology and features over 1,200 exhibitors.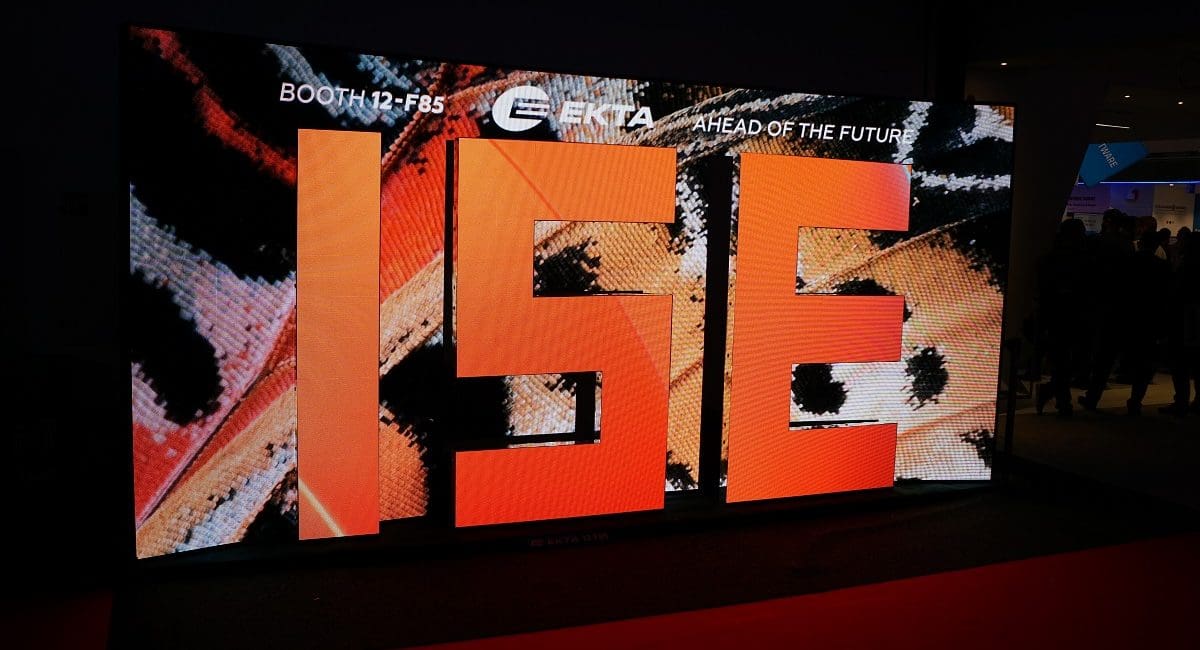 Event Details
February 11, 2020 - February 14, 2020
Fira Barcelona Gran Via, Avinguda Joan Carles I, L'Hospitalet de Llobregat, Spain
What is Integrated Systems Europe?
Integrated Systems Europe Barcelona (ISE) is the largest trade show in Holland, as well as the AV industry's largest trade show, hosted at the Fira de Barcelona Gran Via, Spain.
Featuring pro commercial and residential technology companies, certification courses and lectures, the ISE show is targeted at AV professionals that work in the commercial and residential AV markets.
ISE, which is a joint venture between commercial AV market serving AVIXA and residential AV serving CEDIA, features product manufacturer exhibits and education targeting both residential and commercial technology professionals.
** Update: ISE 2021 has been rescheduled to 1-4 June 2021 in Barcelona **
Keep up to date with ISE 2021 here.
Why Go to Integrated Systems Europe?
The annual four-day trade show and educational event for audio video (AV) professionals takes place at the Fira de Barcelona Gran Via in February.
AV professionals based in Europe make up a large portion of Integrated Systems Europe attendees, but it's not just for Europeans.
As the world's largest pro AV trade show, ISE has become a global event for the pro AV integration industry.
Nearly a quarter of Commercial Integrator's audience of mostly North America-based AV integrators and consultants plan on attending the next ISE, according to a recent survey.
Listen: Ep. 2 – How to Get Around ISE
Nearly 10 percent of CI's audience say they plan on attending ISE for the first time – a sign that the event continues to grow. Meanwhile, 17 percent of the 73,000 attendees at ISE 2017 last year were first-timers.
ISE Barcelona takes pride in its growth rate, calling it a "solid endorsement of the show's pulling power and a major incentive for ISE exhibitors to return and tap into the new business opportunities being presented."
For many North American commercial technology professionals, it's worth the trip to the Fira de Barcelona Gran Via. The AV market has become more global in recent years.
AVIXA points out that North America represents only a small portion of the global AV market. As such, American and Canadian integration have sought to create a global business strategy.
Attending ISE in Barcelona has proven to be a part of many AV professionals' global business strategy.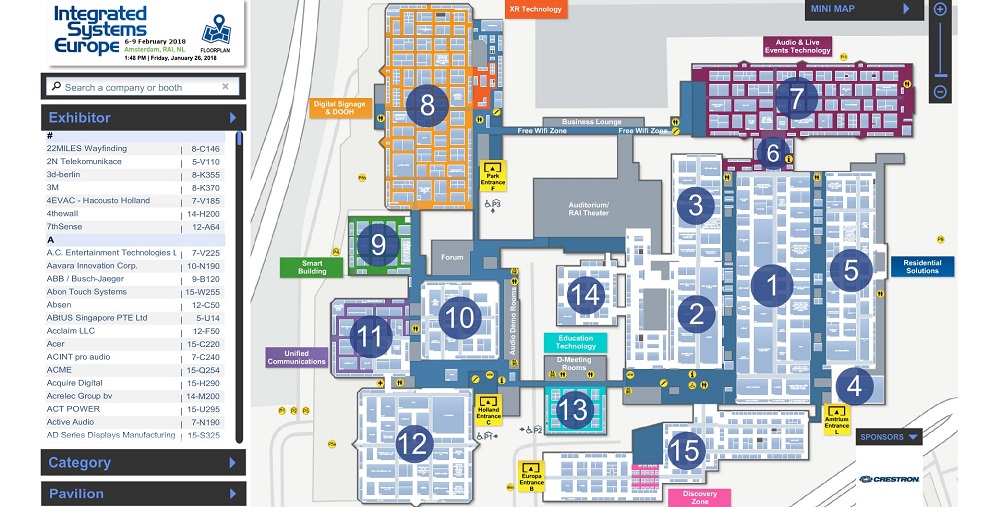 Different Halls at ISE
ISE Barcelona managing director Mike Blackman knows it's an impossible feat for mere mortals to cover the entire breadth of the 15 halls (and counting) at the RAI Center.
But the Integrated Systems Europe show is organized in a way that can help those who have specific categories on their agendas make the most of their experience, whether it's four hours or four full days.
Even with more than 70,000 people battling for space in the aisles, the presence of eight category-themed pavilions can help attendees maximize their time on the ISE show floor.
Halls 1, 2, 3, 4, 5, 14 & 15: residential solutions
Halls 6 and 7: an Audio and Live Events Technology pavilion
Hall 8: Digital Signage pavilion
Hall 13: education technology
Hall 15: the newest hall is also the home for the newest exhibitors, with the Discovery Zone providing an opportunity for first-time exhibitors to make themselves into household names
Those interested in residential solutions can find what they need in parts of Halls 1 and 5, while smart building solutions make up most of Hall 9.
Unified communications dominate Hall 11, while the emerging XR technology has its own pavilion in part of Hall 8.
You won't be able to see all 1,200 exhibitors if even if you make it to all eight pavilion areas, but you'll certainly get a pretty good overview of what's hot right now and should dominate in 2018 and beyond.
Getting Around Integrated Systems Europe
Here are a few suggestions for making your ISE trip a positive experience:
plan well in advance (know each day's priorities, make a spreadsheet detailing visits/appointments)
if you're in a group, split up on the first day and do a broad sweep (you can reconvene and see the most important things together after)
come towards the end of the week if you don't have much time to dedicate to the floor (you'll get more attention from manufacturers later in the show)
use the ISE app (more on this below)
What is the ISE App?
Yes, Integrated Systems Europe offers a free official ISE Mobile App for attendees and those not attending the four-day tradeshow and education event in Barcelona to use on their smartphones.
It allows users to browse information about ISE Barcelona before the show begins through the app or using a desktop-based web portal.
It's available in the Apple iTunes App Store and Google Play.
The app is a portal for show information and provides for easy exhibitor stand searches and product locating. The ISE 2018 Mobile App also allows users to:
Search for exhibitors
Use interactive maps to locate booths or stands on the show floor
View schedules of events
Find presentations and speakers
Look up educational tracks and seminars
Make notes and email to themselves or others
See real-time sessions
Follow social media comments on Twitter, Facebook and LinkedIn using #ISEEXPO2018
Find exclusive updates and news on the Activity Feed
ISE: Integrated Systems Europe, the Largest AV Industry Trade Show Map
Lastest Posts on ISE: Integrated Systems Europe, the Largest AV Industry Trade Show