Helios Education Foundation Creating Opportunities for Education Success
Spinitar and NV5 to create a solution for Helios Education Foundation facility in Phoenix that helps them expand on their mission of serving others.
Leave a Comment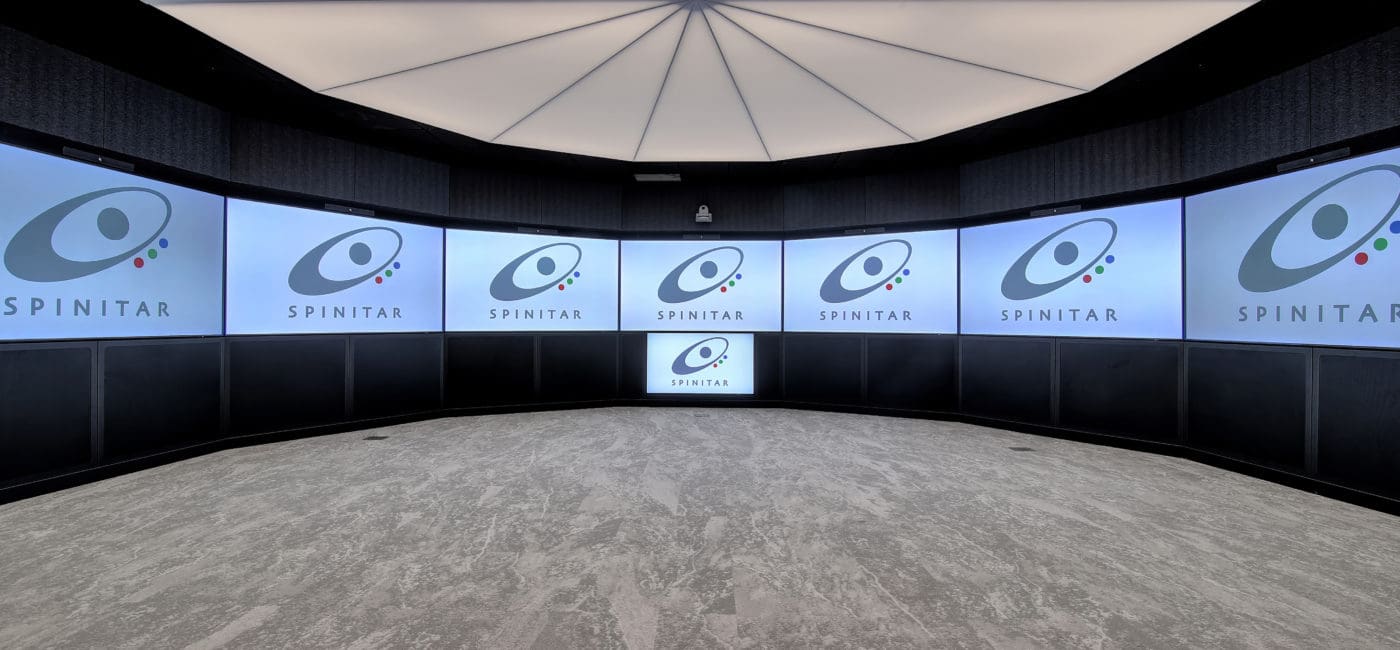 Helios Education Foundation, an organization focused on helping people achieve success in their post-secondary education lives, recently built a new 30,000 square foot headquarters in Phoenix.
To further its growth and expansion, Helios sought to design a building that was architecturally sophisticated while embodying organizational values of education, learning and team-oriented culture.
They wanted to incorporate a cultural desert aesthetic created by local Arizona artists. Incorporation of these designs would further propagate Helios' core values of collaboration and sense of integrity within the community.
Related: Spinitar Raises $55,000 for City of Hope Through Virtual Day of Giving
Helios Education Foundation aimed to design an architecturally inspired building that would encourage advanced learning and creative growth.
Their long-term commitment to education along with investments in knowledge and expertise helped to foster advanced student preparedness and a thriving academic environment.
Building the Team
Helios officials engaged consultant firm The Sextant Group, now called NV5, who worked closely with Helios Education Foundation to inspire modern architecture designs along with integrated cutting-edge technologies. Then they contracted with Spinitar to make the technology design become a reality.
Helios was dedicated to creating a fresh space with a modern architectural flare and advanced tech capabilities. The project would emphasize the latest forms of AV technology while establishing a physical presence of artistic vivacity.
The building would be a gift to the community designed with inspiration drawn from rains, cascades and other local cultural designs.
The project would consist of a convening space, multiple meeting rooms, event service spaces, a fitness center, and 20,000 square feet of space used to support Helios Education Foundation partners.
NV5, Spinitar and Helios hoped to make a statement by establishing a physical presence while capturing the attention of the community. Using spirited architectural designs and high-end technologies, the AV experts helped make the campus a reality with a voice to education as a top priority.
Over the last decade, Helios Education Foundation officials have created a network of strategic partnerships and investments throughout Arizona and Florida.
Guided by their foundational beliefs in community, equity, investment, and partnership, Helios has invested millions of dollars into education-related programs and initiatives.
They traditionally service under-served first-generation students and minorities, but lacked the square footage necessary for community collaboration, organizational growth, and expansion. Helios wanted cutting edge technology along with new capabilities and massive design spaces.
They wanted to establish a physical presence that was artistically sound and environmentally positive. With unique architectural designs, Helios wanted to cast a spotlight on community involvement and partnership through education.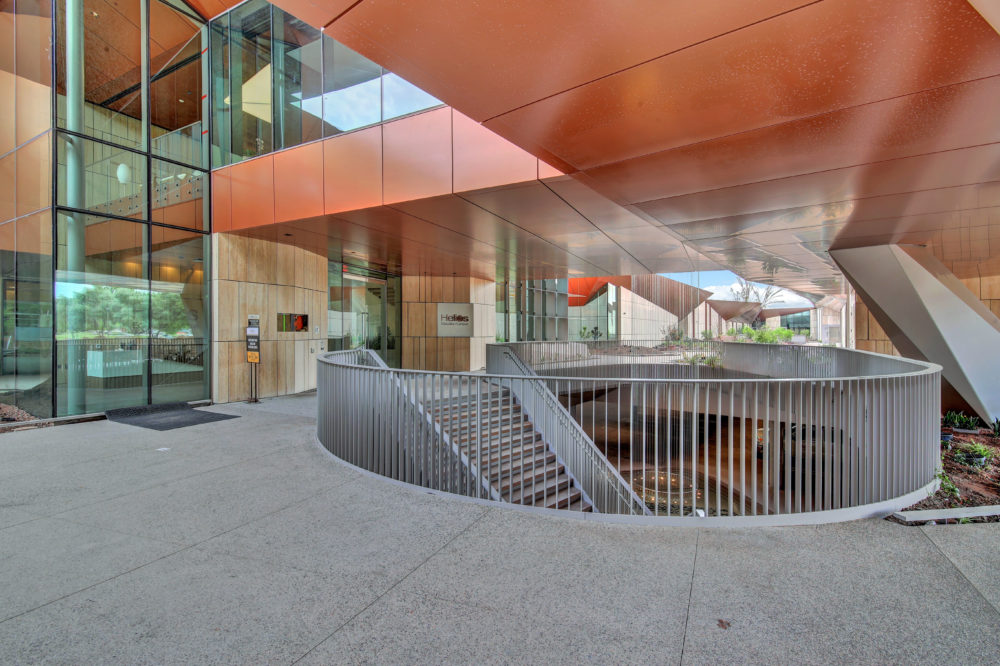 Inside the Installation
Throughout the integration process, Helios and Spinitar focused on establishing a physical presence that would capture community attention using advanced technologies and culturally inspired architecture.
The building would include the following spaces:
Boardroom to support presentations and high profile meetings for executives and board members
Executive conference room furnished with lounge style sofa and wall mounted displays
Conference room that allows for media sharing, presentations, and video conferencing
Offices that encourage collaborative systems of wireless media sharing, presentations, and video conferencing
Multipurpose spaces to support meeting, presentations, and other events
Interactive presentation space which provides a space to immerse decision makers with data and analytical tools
NV5's design consisted of two overarching goals: Utilize top-notch technological solutions and establish an architectural building design that was unique and culturally relevant.
These two core objectives helped Spinitar blend artistry and innovation into a single community-driven project. Spinitar's assistance went beyond traditional audiovisual integration as they created engaging cultural infrastructures with modernized technological solutions.
Helios wanted to stimulate community interaction and involvement to the fullest extent. The new space will encourage collaboration while bringing a voice to education as a priority using technology as the backbone of shared experiences.
With technology as the highway between building and community—Helios is establishing an educational presence that will pave the path for future generations to come.
"Spinitar was able to help Helios Education Foundation achieve our goal of combining sustainable architecture with innovative audiovisual solutions," said Paul Luna, CEO of the Helios Education Foundation.
"Our campus will inspire community collaborations that will help pave the path towards student success for generations to come," he said.
Here's what happened in each room of the Helios Education Foundation facility:
Boardroom
The room was outfitted with Creston interactive Flex UC audio/video conferencing systems.
Integrated motorized microphones were installed with hide away capabilities when not in use.
Crestron TouchPanel control
The room features a wall-mounted 98" NEC flat panel 4K display.
Networked audio systems were installed with remote central audio processors.
Executive Conference Room
The room was designed with a unique stadium seating array for Crestron Flex and Microsoft Teams.
Wireless table microphones were integrated with flexible placement capabilities.
A wall-mounted 98" NEC flat panel 4K displayed was installed.
Large Conference Room
The room features a Crestron interactive Flex UC audio/video conferencing system.
Integrated pop-up microphones were installed in the conference table surface with hide away capabilities when not in use.
Crestron touch panels were used to control AV technologies in the room.
A wall-mounted 98" flat panel 4K display was installed.
Networkable audio systems were used featuring remote central audio processor DSP.
Small Conference Room
Crestron Flex UC engines were used to help power Microsoft Teams conferencing.
A unique USB switching system was used to switch conferencing from BYOD laptops and Crestron Flex using shared audio and video if desired.
Crestron Room schedulers were used to schedule or display current room status.
Offices
A total of five offices were outfitted with Microsoft Teams conferencing services powered by Crestron Flex UC engines.
A unique USB switching system was used to conference with laptops using shared audio and video if desired.
Crestron Room schedulers were used to display current room status and scheduling.
Convening Area
The area features a unique combination of conference and training spaces with vertical folding partitions powered by Crestron control.
Each space uses Pan Tilt Zoom cameras controlled from production control rooms.
Networked Dante audio systems were integrated with central distribution capabilities.
Three laser video projectors were installed with motorized lifts.
Ceiling speakers were mounted using concealed architectural ceiling apertures.
Production switches were used in the control room with streaming encoders that allow easy content sending to other rooms in the building.
Multichannel digital wireless microphone systems were installed.
Interactive Presentation Space
Features a total of seven 85" displays arranged in an arc in front of seated participants using a custom RP Visuals engineered display mounting system.
An array of speakers were installed with custom 7 channel video servers.
Crestron 32×32 matrix switches between two 7 channel video servers, allowing the control room to prepare content on one server while the other is being presented in the theater.
The room was integrated with Crestron Flex Video conferencing capabilities to help facilitate collaboration.
Partner Suites
A total of six partner spaces were designed with wall mounted presentation displays and table HDMI connectivity for presentations and conferences.
Room Scheduling
The facility features 14 wall mounted Crestron room schedulers which provide real-time status of room schedules and meeting times.
Centrally integrated within Microsoft Office 365 servers allow employees to schedule directly from Microsoft Outlook calendars.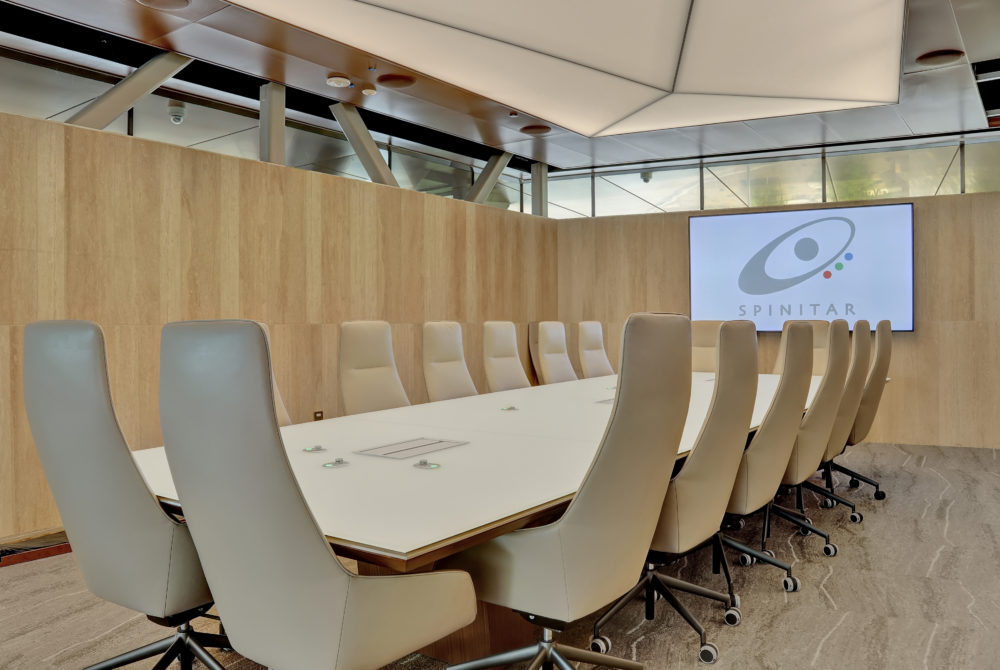 Spinitar worked closely with custom mounting solution partner RP Visual Solutions (RPV) to create the 7Wx1H multiple display array mounting structure solution for the Helios Decision Theater project.
RPV designed and fabricated a custom, curved array, swing-out mount system to pair with the 98" NEC flat panels.
The new 30,000 square-foot space will be used to provide multiple convening spaces with meeting rooms, event service spaces, fitness center and a community kitchen/gathering area.
The culturally diverse architectural design will establish a physical presence in the community, while helping education and civic leaders to improve educational standards.
Spinitar strived to implement technological solutions and unique design characteristics that would encourage community engagement and growth.