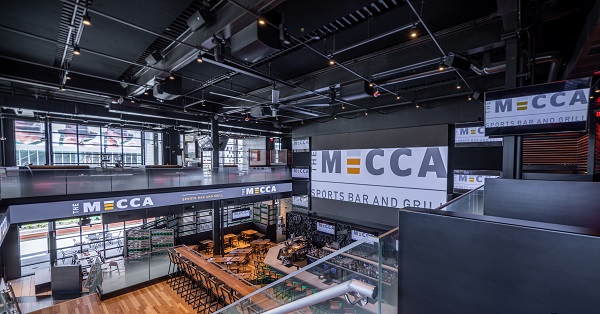 Automation Arts — The Mecca Sports Bar & Grill
The Mecca Sports Bar and Grill is not only considered Milwaukee's best sports bar, but it also sets a new standard for all other sports bars. The 11,500-square-foot, two-story facility can accommodate more than 600 guests while offering a live, in-game experience.
AV integrator Automation Arts set out to deliver "the most memorable arena-like AV experience possible to serve as a major attraction for Milwaukee's most hardcore sports fans."
Bucks VP of hospitality Justin Green and his team worked with Automation Arts to design and deploy a state-of-the-art AV solution. They chose Crestron's DM NVX AV-over-IP technology because of its flexibility, reliability, and ability to distribute flawless 4K video with no latency.
The centerpiece of the space is a 38-foot high-definition TV flanked by nine 90-inch TVs. In total, there are 65 TVs. An LED ribbon board wraps around the second level, displaying in-arena content such as sports scores and information on upcoming concerts. Everything is powered by DM NVX.
Return To:
These are Some of the Most Impressive AV Projects: Meet the 2020 Integration Award Winners