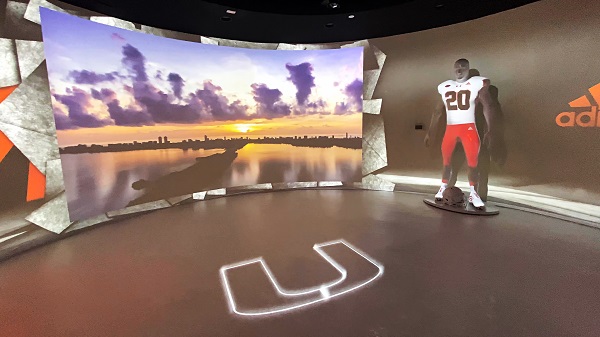 Midtown Video — Miami Hurricanes Football Recruiting Experience
The Miami Hurricanes of UMiami wanted to place their team's accomplishments on a technological pedestal and, in the process, recruit promising high school football players. Their "Recruiting Rotunda," installed by Midtown Video, immerses prospective recruits in the sights, sounds, and excitement of the team's five national championships.
The Recruiting Rotunda serves as a portal that leads to the coaches' offices on the second floor of UM's Hecht Athletics Center.
Recruits begin their journey by walking down a darkened, 60-foot corridor lined with flashing LED lights that illuminate a visual history on the walls, including the championship years. At the end of the hallway, they see and hear championship highlights projected onto a fog screen that shrouds the entranceway. Once inside the Rotunda, they're barraged with 360-degree video projection, multi-channel surround sound booming from embedded speakers, 3D projection mapping, LED lights, and more.
The experience leaves them wowed, smiling, and excited to join a winning team.
Return To:
These are Some of the Most Impressive AV Projects: Meet the 2020 Integration Award Winners