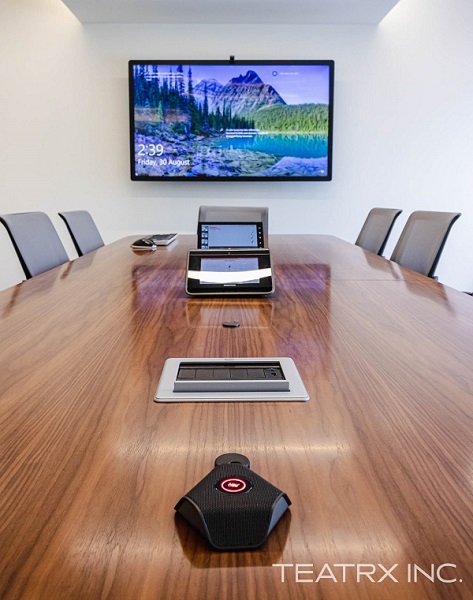 Teatrx — Choice Properties Calgary
The company engaged Teatrx to design seven multi-functioning meeting rooms for the ongoing collaboration of clients and employees.
The meeting spaces needed their own dedicated computers running Windows 10, cable cubbies with retractable access to be stores when not in use, and the ability to wirelessly share content from a user screen to the meeting space display.
At the onset of the project, Teatrx learned that construction partners were unable to provide conduit and coring to three of the meeting rooms. To address the high connectivity demands and multiple power circuits and cables required for these rooms they introduced Connectrac. Working together with the projects interior designer, these in-carpet wireways integrated seamlessly in a cost effective manner while maintaining the design integrity of the new meeting space aesthetics.
Crestron Room scheduling touch screens were tied into the IT exchange environment and Robin search engine software was used so that appropriate meeting spaces could be found from within work calendars.
Return To:
These are Some of the Most Impressive AV Projects: Meet the 2020 Integration Award Winners