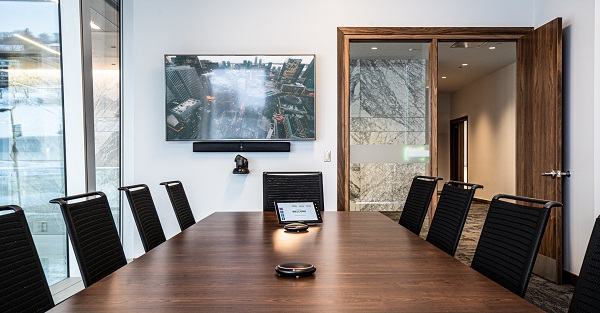 Teatrx — Riverland East Tower
Teatrx was engaged by Triovest to design, integrate and maintain three conference center meeting rooms. The 13 story, 180,000-square-foot East Tower project started, the goal was to allow clients to seamlessly connect and present using their own devices within the custom-designed meeting rooms.
Centralizing all the equipment in a temperature-controlled infrastructure room was key to the success and within that all IT, telecom, power and surge protection would be focused and integrated. From there, Teatrx came up with a design proposal, time line, and budget for the design, integration and managed services for post integration. Triovest agreed the solution should be forward thinking with cloud-based simplicity where possible.
Teatrx designed all equipment to communicate over an air-gapped network to manage A/V equipment both remotely and locally if needed. Manages services were added for equipment alerts, remote fixes if possible and local servicing.
Return To:
These are Some of the Most Impressive AV Projects: Meet the 2020 Integration Award Winners