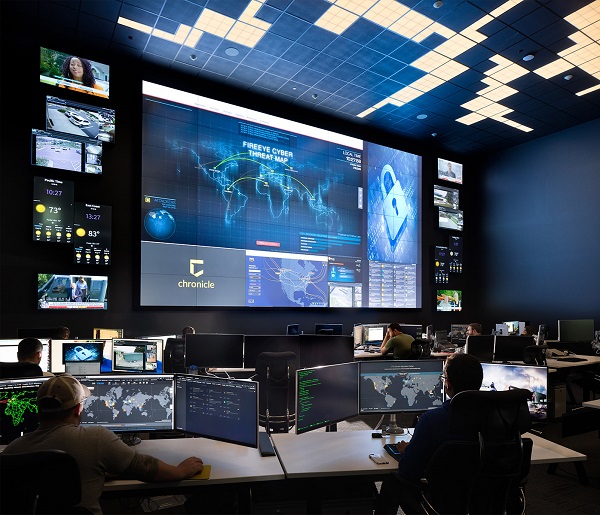 Domotek — Fishtech Group
Fishtech Group, a cybersecurity solutions provider, opened its 20,000-square-foot critical command center next to its company headquarters in Kansas City, Missouri. The space was designed to serve as an around-the-clock cloud security and threat-monitoring center, where Fishtech employees manage and monitor client's applications. The new facility features a video wall, workstations, private offices, meeting spaces, and a showroom known as the 'Cloud Gallery' installed by Domotek.
It was imperative that Fishtech standardize on an AV platform that is secure, reliable, and flexible to ensure clients' cloud-based infrastructures are safe.
With the ability to route audio and video with a touch of a button, JITC-certified DM NVX allows Fishtech employees to securely distribute content anywhere in the building from one centralized location. Every meeting space features a Crestron TSW touch screen located outside of the door where employees can walk up and reserve the room. Each room scheduling touch screen is natively integrated with their existing calendaring platform, which allows employees to also book spaces in advance, right from their desk.
Return To:
These are Some of the Most Impressive AV Projects: Meet the 2020 Integration Award Winners