Helping Customers Build Solutions for Their Specific Back to Work Strategy
Customers are returning to the office, but with new options for remote, in-person, or hybrid work environments no two solutions integrators provide will be the same.
Record Date/Time: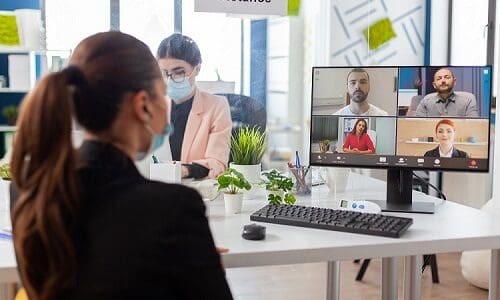 The past year has been difficult for everyone. Challenges like remote work and learning arose for the first time in many organizations, and at an organization-wide scale. Integrators are keenly aware of how difficult the sudden transition to distance work and learning has been.
While integrators are starting to see an influx of projects for organizations readying to move back to an office environment, they're also learning that customers are facing an entirely new set of challenges. In this new world where remote work has become ubiquitous, each organization must decide for themselves what their workstyle will look like moving forward.
In an upcoming webinar presented by Lencore on September 1st at 2:00 PM ET, Commercial Integrator will host a panel discussion of end user technology managers to discuss the possibilities and challenges of the new workplace.
First, we'll outline three potential work styles for customers to choose between:
In-Office: This traditional workstyle involves employees returning to the office for four or more days per week for six or more hours per day. But how will it differ from pre-COVID offices now that employees have experiences the technology involved with remote work?
Largely Remote: This new normal workstyle involves a large majority of the company working from home full-time. But how will technology plans for the company change in order to facilitate a remote workforce?
Hybrid: This catch-all workstyle is a mix of in-office and remote work that will be different for each company. Some might have all employees come in for 2-3 days and work remote 2-3 days. Some may have designated in-office employees and designated full-remote employees. Some may tell all employees to come in for collaborative work and stay home for individual work.
Once we've outlined the possibilities, we'll discuss how integrators can become strategic partners to their clients in order to build technology solutions into a business plan. Integrators have a unique opportunity to help customers not only with technology, but help them navigate a decision that will completely change the way their company functions.
Join us on September 1st at 2:00 PM ET and learn all about how you can be the best partner to your customers as they transition to the new workplace!
Sponsored by: