Now on-demand: Be an Expert at Indoor AND Outdoor LED and Earn More
You need to master indoor AND outdoor LED if you want to expand on existing and new digital signage installation clients. Learn how in this free webinar now available to watch on-demand.
Record Date/Time: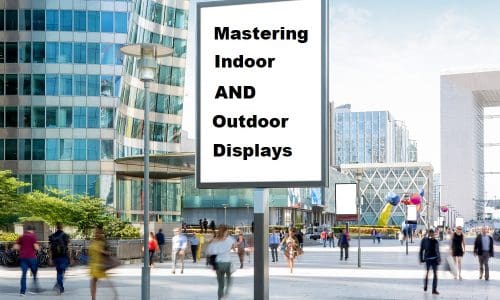 We already know that LED video is a growing category. Many integrators who are lucky enough to get LED signage installations focus on the "bread-and-butter" of that market: indoor signs and kiosks. But what about stepping outside the building?
In this free webinar, we offer integrators some advice that will help them master both selling and installing indoor AND outdoor LED.
Guiding you in this course are special guests Brett Unzicker, EVP Sales at PRISMVIEW, Kevin Izatt, Product Marketing Manager at PRISMVIEW, and moderation from CI senior web editor Adam Forziati.
Click here to watch this webinar now!
What we cover:
Winning MORE Digital Signage Jobs
LED Technologies Transforming the Industry
Expanding on existing indoor-only customers with outdoor propositions, and vice-versa
Practical applications and examples of both indoor and outdoor LED
Proven sales strategy to find new opportunities
Countering objections to these new jobs – salesmanship advice, positioning, learning the customer's business and offering better insight as to the value of new outdoor/indoor signage
Indoor Vs. Outdoor LED Displays
The differences in selling [and installing] indoor vs. outdoor LED displays
Where they differ and where they are similar
Technical considerations
Service after the installation and value-added future benefits to the client
Sign up to watch the free webinar on mastering indoor AND outdoor LED here.
Sponsored by: