Reimagining the Modern Workplace with Collaboration Technology
In modern workspaces, collaboration is key. Join our webinar to learn more about how to outfit organizations with collaboration technology.
Record Date/Time: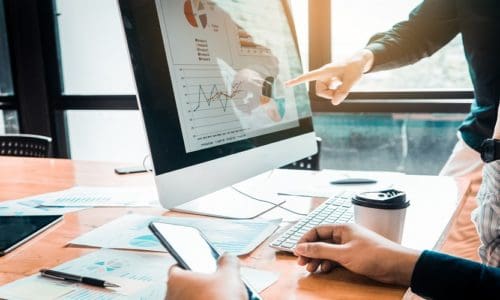 The modern workplace is going through a massive evolution.
Chat, email, voice, content co-creation, site and content management, enterprise social networks – none of these are new to the workplace. However, all of them are necessary in order to create a modern workplace that can cater to the changing needs and preferences of an increasingly tech-savvy workforce.
While the rise of the recent COVID-19 pandemic has forced many organizations to allow employees to work from home and utilize collaboration technology to get work done, the reimagining of the modern workplace is not a result of the pandemic.
This change was already underway. The coronavirus has simply accentuated how unprepared many organizations are for this inevitable shift, as well as shown how organizations that have already implemented the right collaborative technology experienced relatively little disruption.
The goal of the reimagined workplace is to give employees central locations in the office – huddle rooms, meeting spaces, and boardrooms – which can easily branch out to connect with the remote workforce.
That way employees can determine whether to work in the office or at home depending on what they're most comfortable with, with a similarly efficient experience.
This kind of flexibility gives organizations a competitive advantage. Not only does it provide better collaborative environments which lead to better productivity, but it gives them flexibility in the workplace, a sought-after trait when recruiting and retaining talent.
That all starts with the technology. In our May 6th webinar, sponsored by AVI-SPL and Microsoft, you'll learn how to outfit different spaces in the office with the right technology to create the reimagined modern workplace.
During this webinar, Microsoft's Sukhvinder Guraya will share insight into:
– What millennials expect from their workplaces in terms of collaboration
– Why remote work integration is a crucial aspect of collaborative spaces in the office
– Statistics on the rise of collaboration in the workplace
– Where chat, email, voice, video, content creation, and more fit into collaboration
– How to outfit different spaces with the right collaboration technology
It's time that the workplace took a full step into its next stage of evolution, through collaborative technology that enables workers to work better together, wherever they are.
Our webinar will give you the information integrators and end users need to get started on this necessary transformation.
Click here to sign up for this May 6th webinar and learn how to outfit your spaces with the right collaborative technology!
If you enjoyed this webcast and want to receive more valuable industry content like this, click here to sign up for our digital newsletters!
Sponsored by: