Beam Tracking, Microphone and Amplifier Power Specifications for Great Conferencing Audio
This free webcast addresses how to avoid jumbled conversations and delays when you set up your next conference call.
Record Date/Time: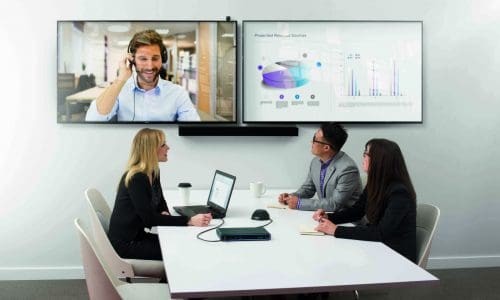 Conference calls are great IF … and that's a big IF …
IF the audio is clear and everyone can be heard without listeners having to strain or having to ask for information to be repeated. Without people talking over each other and valuable points being lost. That's no way to impress the customer on the other end of the call.
The answer to better conference calls is not as complicated as you might think. By having the correct amplifier power specifications and beam tracking microphones, you can direct the audio components to be able to pick up each speaker's voice more accurately and with better clarity.
In this free Commercial Integrator webinar, Biamp's Zach Snook teaches you how to get the best conferencing audio possible with information about:
How to specify amplifiers
Where to place microphones
What role beam tracking plays
The burst power modes you need to peak audio
You'll be surprised to learn that you need less power than you think for a premium experience.
Avoid the usual problems and impress your clients when your next conference call goes off without a hitch with the knowledge you learn in this free webinar.
Sponsored by: