How Integrators, Manufacturers, and End Users Collaborate on Digital Platforms
In an upcoming webinar we'll explain how creating digital platforms with the integrator, end user, and manufacturer working in tandem leads to the best success.
Record Date/Time: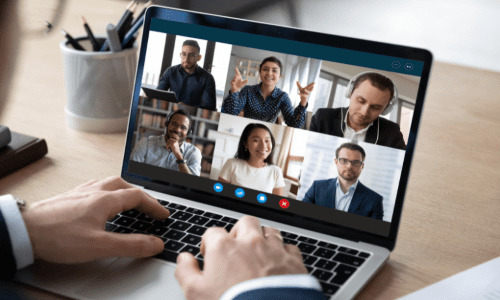 As employees continue to return to the office, the digital platforms organizations provide for collaboration and communication will need to evolve to fit the needs of users that have gotten used to certain aspects of remote work.
For over a year, employees have grown used to presenting and collaborating directly from their devices. Videoconferencing when all employees are remote allows for quick and easy sharing of content and documents during a meeting. As employees return to the office, the digital platforms they use will need to provide the same ease of use. Especially for the many organizations that are implementing hybrid work strategies moving forward.
In an upcoming webinar sponsored by AVI-SPL and Biamp on June 9th at 2:00 PM ET, we will discuss all of the technology that can enable evolved digital platforms that facilitate the best work for employees in the new workplace. By taking a problem-solving approach, we'll explain how the many pain points that arise when developing the perfect digital platform can be remediated.
We'll also discuss how integrators should be brought in as real partners for their customers. Integrators provide a unique expertise in how to build a strategy for the best technology based on processes, workflow, and the layout of the business. They can tailor solutions and bring information based on what other companies have done successfully.
Manufacturers can then provide support to help tailor solutions to the business's needs. Integrators and their customers should seek manufacturers that don't just sell products and services, but offer the support necessary to build their products and services into an overall system. Manufacturers can be the backbone of the working relationship between integrators and end users.
In order to help demonstrate the benefits of the customer, integrator, and manufacturer relationship, we'll have representatives from AVI-SPL and Biamp discuss how they've worked together on customer projects. This discussion will help attendees visualize how successful a project can be when all parties are aligned. Presenters will include:
Susan Milwit, Global Account Manager, AVI-SPL
Joe Whitesides, Sr. Solutions Architect/SME, AVI-SPL
Zach Snook, Sr. Product Manager, Biamp
Brandon Roberts, Enterprise Account Manager, East, Biamp
David Wolf, Unified Communications Engineer, Capital One
Click here to sign up for this webinar and gain unique insight into how the integrator, end user, and manufacturer relationship can work to incredible results!
Sponsored by: