How Virtual Reality Can Transform Design, Construction, and Integration of AV
In an upcoming webinar we will show attendees how virtual reality allows architects, integrators, consultants, and customers to eliminate the majority of problems that arise throughout the construction and integration process by experiencing their space before they build it.
Record Date/Time: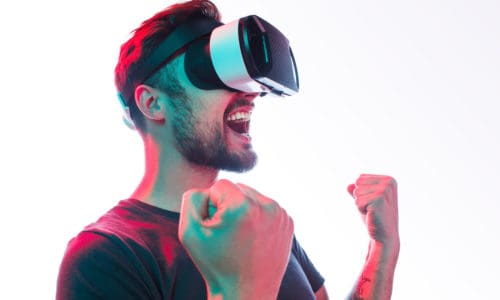 Virtual reality has improved drastically in the past ten years to the point that gamers are flying through the air as iron man and artists are developing three-dimensional masterpieces in virtual canvasses. The potential for virtual reality is immeasurable, and it's not just a fit for the consumer space.
In an upcoming webinar with ModusSpace, Commercial Integrator and My TechDecisions will show attendees how virtual reality can be used to import or design rooms down to minute details so that the finished product can be experienced before an architect or integrator ever enters the building.
Imagine you are designing a meeting space, auditorium, classroom, etc. The first step is designing specifications. The rest of the project involves dealing with unforeseen obstacles those specifications didn't account for, such as poor audio quality as a result of the room design, inability for some participants to view displays, furniture that doesn't fit the space well, and more.
With virtual reality programs available today those obstacles can be dealt with during the specification stage. Modus VR has developed a platform that allows integrators, architects, consultants, and their customers to completely design these spaces and view them in VR so they can be experienced and altered with just the click of a button. ModusSpace adds the ability to offer these solutions as-a-service.
In a Modus VR room everything can be customized. Furniture can be replaced and resized. Technology on the walls can be moved throughout the room. Even details as small as light switches and ventilation grates can be moved about the room.
What's more, is even those without VR headsets can experience these rooms through a drone feature that lets users move about the room on their computers and laptops.
It's not just about the size and position of things. Modus VR also allows users to experience acoustic burst – that is, the software visualizes how audio behaves in a room based on specific finishes and room characteristics to give a representation of how the space will sound.
For displays and projectors and LED Walls, the software scores viewing angles of participants in any given seat within the room. This lets users understand how certain products will perform in the room long before they are purchased.
In our upcoming webinar on May 5th at 2:00 PM ET, we'll explain exactly how virtual reality can be used to design rooms in ways never before possible.
We'll bring in working customers that have used Modus VR and experienced this streamlined process of designing spaces.
Attendees will walk away with a better understanding of how virtual reality can solve endless problems in the construction of new spaces.
If you enjoyed this webcast and want to receive more valuable industry content like this, click here to sign up for our digital newsletters!
Sponsored by: