Bringing Immersive Videoconferencing to Your Clients
In an upcoming Commercial Integrator webinar, we discuss how integrators can bring evolved, immersive videoconferencing solutions to clients that now expect a better experience.
Record Date/Time: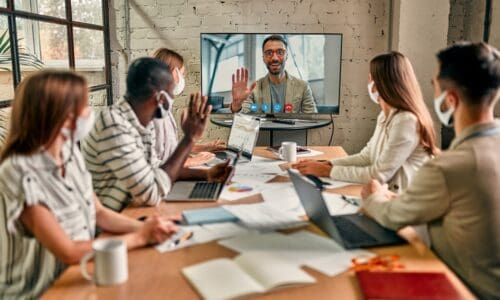 The hybrid workplace is an all-encompassing term. It can refer to organizations where every employee comes into the office for a few days and works from home for a few days each week. It can refer to organization where some employees are full-time in office, and others are full-time remote. It can refer to an organization where all employees come into the office for collaborative work and stay at home for individual work.
The unifying thread in all hybrid work environments is that videoconferencing will be a big part of the puzzle. Employees within the office will need to bring in employees outside of the office. Even if a client's organization is bringing everyone back to the office full-time, organizations that they partner with or sell to may be hybrid and require videoconferencing for collaboration between to the two firms.
It will be the integrator's job to provide videoconferencing services that hold up against the individual experiences that the workforce has enjoyed for more than a year. That means clear audio on both ends, close-ups on individual speakers in order to read body language and facial expressions, being able to quickly and easily share screens and content, and much more.
That home experience will need to be duplicated within the office. Clients will expect it from the systems integrators install. We all know, however, that porting the individual videoconference experience to a boardroom, conference room, or even huddle room is no easy task.
In an upcoming Commercial Integrator webinar on July 20th at 2:00 PM ET, sponsored by Jabra and ALMO, we will take a deep dive into the hybrid work space including how current technology can optimally enable employees in this new environment.  Aurangzeb Khan, SVP, Intelligent Vision Systems, GN Jabra, and Brian Rhatigan, CTS, DSCE, Director of Business Development, Almo Professional AV, will review how more immersive and intelligent video collaboration technologies help with flexibility and inclusion from home or the office and boost productivity. Attendees will gain further insight into:
Why it is important for a hybrid environment from both an employee and management perspective
Why users should be looking at commercial cameras and video collaboration solutions over other offerings in the market space
Meeting rooms spaces and how and why they should be outfitted with optimal collaboration technology and how Jabra and ALMO can help with those needs
How and where executives are planning to invest in virtual collaboration tools
Current trends in this space
Join us on July 20th at 2:00 PM ET and learn how you can provide the videoconferencing experience your clients will demand in the year to come.
If you enjoyed this webcast and want to receive more valuable industry content like this, click here to sign up for our digital newsletters!
Sponsored by: